Introduction to lakes
What is a lake?
A lake is a body of water surrounded on all sides by land, they are generally fed by rivers, springs or precipitation (rain and snow) and so are primarily freshwater. However, some of the more famous lakes, like the Dead Sea and the Great Salt Lake, are saline lakes and contain only saltwater.
Some limnologists - or scientists who study freshwater – say that if a particular body of water is so deep that sunlight does not penetrate the bottom, then that body of water is considered a lake. This impenetrable layer is known as the 'aphotic zone'.
The shores of lakes are wetlands in themselves, but lakes are often surrounded by other wetlands, known as 'lacustrine' wetlands.
Where do you find lakes?
Lakes are very different across the world. Lakes in England are usually shallow natural lakes or man-made – like the Norfolk Broads or WWT Martin Mere. The Lake District is the exception. The world's deepest lake is Lake Baikal, in Russia. It holds nearly as much water as all five of the Great Lakes of North America. Some inland lakes become salty. This is usually because they're closed - not fed by a river or stream - and the water evaporates leaving salty minerals behind. Flamingos thrive in some of the saltiest lakes in the world.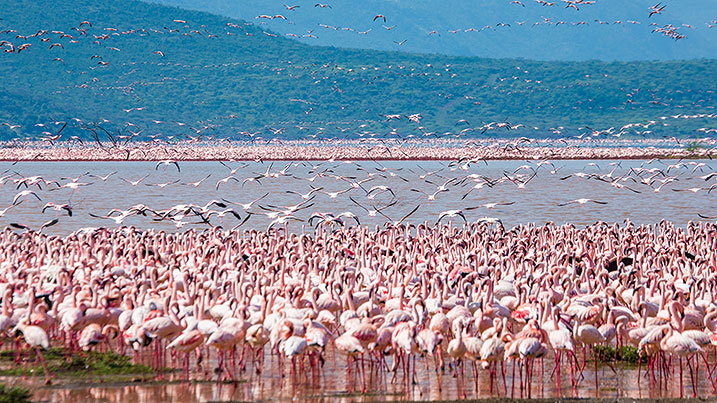 What lives in a lake?
This is largely dependent on the underlying lake, whether the water is clear or cloudy and where it lies in the landscape. Lakes in the highlands are very different from the lakes of the lowlands.
Wildlife you're likely to see range from water voles and otters to fish species like catfish, bream, pike and eels, to amphibians like natterjack toads, common frogs and great crested newts.
Lakes are also essential places for waterbirds. Nutrient-rich lakeshores act as important breeding and wintering grounds for teal and diving ducks, such as tufted and pochard. On some Scottish lochs, you'll find red-throated and black-throated divers as well as goldeneyes and goosanders.