Introduction to mangroves
What is a mangrove tree and how does it survive?
Mangroves are exceptionally tough and are one of only a handful of trees in the world that can tolerate salt water. The secret to their survival is a clever filtration system that keeps out as much as 90% of the salt as it enters their roots. They also excrete salt through their waxy leaves. To cope with the regular tides, some mangroves grow pencil like roots that stick up out of the dense wet ground, acting like living snorkels. Their twisty root network also protects them, holding the mangrove upright in the shifting sediment where land and water meet.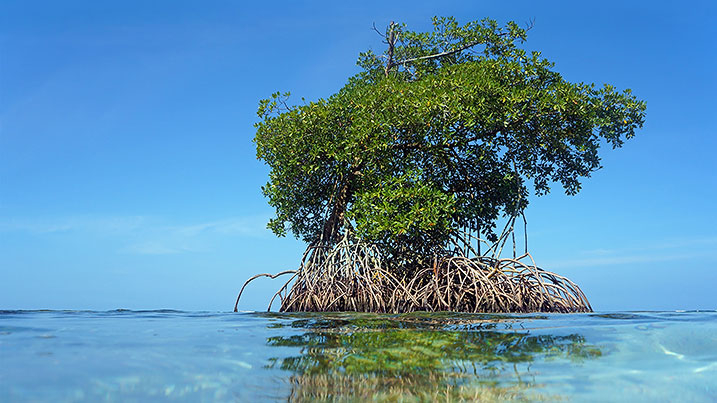 It's estimated there are at least 50 types of mangrove around the world, ranging in height from two to ten metres. Some can handle tidal soakings and grow in the open sea, in sheltered bays and on fringe islands. Those adapted to drier, less salty soil can be found further from the shoreline. Others grow along riverbanks far inland, as long as the freshwater current is met by ocean tides.
Where can you find mangroves?
Mangroves grow in 118 tropical and subtropical countries around the world. They're found from Florida all the way down to Argentina and on both the western and eastern coasts of Africa, as well as throughout the coastal fringes of tropical southeast Asia.
What lives in mangroves?
Mangroves provide shelter for many rare and endangered species, from hummingbirds to tigers. On the coast, where forest meets sea, juvenile sharks and shoals of brightly coloured tropical fish swim in the clear shallows of mangrove-fringed lagoons. Shafts of light shine through the water to the white sand below and reveal bright pink sea sponges that live among the mangrove's underwater roots, which can be as colourful as reefs.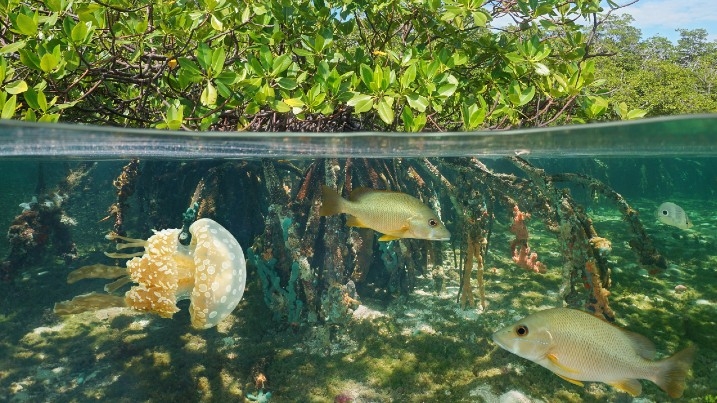 Deeper into the mangrove swamp and along the darker edges of inland creeks, the water is murkier, thick with sediment. Here shadowy shapes of crocodiles slip silently beneath the surface to hunt, while giant snakes bask in the sun on overhanging branches. Above, birds of prey circle and monkeys can be heard chattering in the undergrowth. And enveloping everything, the forest's soothing, rich, silty scent.
For the animals that live among the trees, like spotted and muntjac deer, moving around is like negotiating a giant bed of nails created by the upper part of the mangrove roots. In Asia's mangroves, the undisputed king of the forest – the Bengal tiger - stalks its prey, moving through the trees undetected, its stripes creating the perfect camouflage.