Introduction to reedbeds
What is a reedbed?
Reedbeds develop as young reeds colonise open water or wet ground. As reedbeds age, a litter layer builds up that can then become taken over by scrub or woodland. They don't generally grow in very acidic water, where they're replaced by bogs and fen. They are dominated by the common reed which can grow up to two metres high, almost to the exclusion of other species. They have underground 'runner' stems or rhizomes that spread out and produce tightly-packed fresh shoots that emerge each year. It's these tender new stems that provide food for many wetland residents, including water voles and insects.
Where can you find reedbeds?
Reedbeds generally form as a feathery margin of reeds along the edges of low-lying river floodplains and coastal estuaries where they can sometimes form extensive swamps. Once common throughout the UK, they're now mostly confined to isolated coastal areas of East Anglia. Our reedbed at WWT Arundel is one of the largest in Sussex and is designated a Site of Special Scientific Interest. At WWT Llanelli, Slimbridge and Martin Mere you can take to the water on one of our canoe safaris and paddle through the reeds where you might spot a water vole or hear one of the many warblers that make their home here.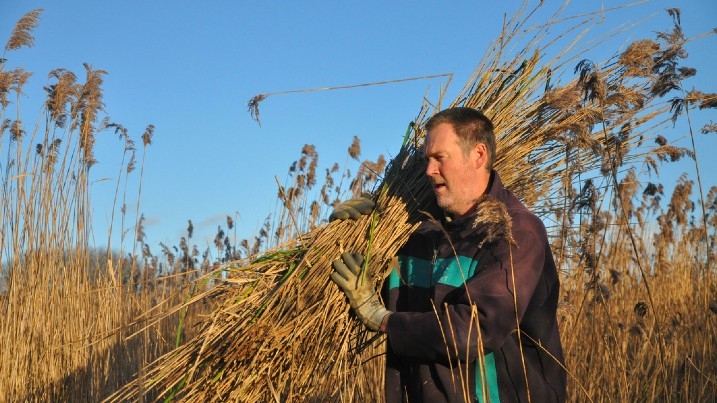 What lives in a reedbed?
Despite their lack of plant diversity, reedbeds can support a wide range of wildlife provided they're managed to provide a variety of ages and structures, as we do on our wetland reserves.
You're more likely to hear the birds that take up residence in our reedbeds than see them. Listen out for the distinctive sound of the Cetti's warbler exploding over the water amongst the more rhythmic raspy, chugging song of the reed warbler coming from deep within the reeds. Sedge warblers tend to be found more on the edges and often sit up high on the top of the reeds to sing out their loud and erratic scratches and whistles. Bitterns prefer wet reedbeds and feed at the water's edge where fish are more plentiful. Spring is the best time to hear booming males. Reedbeds are also home to the secretive bearded tit and reed bunting, while overhead marsh harriers patrol on the hunt for food.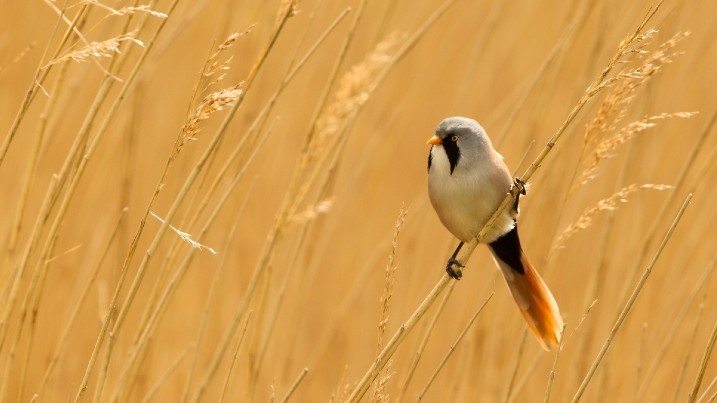 Reedbeds also support a wide variety of mammals, with drier areas providing burrowing habitat for voles, water shrews and harvest mice and otters can be found basking in the sun on scrubby islands. Young fish shelter in the submerged roots feasting on plants, insects and larvae. While dragon and damselflies, beetles, water fleas, shrimps and water spiders all make their home amongst the reeds.