Great weather for Snipe. It's probably just us but when it's raining Snipe do look a little perky, celebrating the soft conditions perhaps. Difficult to accurately count the numbers but with 43 counted on the Mere alone there must be twice that number secreted about the place.
Other waders included Wood Sandpiper both on the Mere and later Woodend Marsh, 22 Ruff, 200+ Lapwing, up to 15 Black-tailed Godwit and Green Sandpiper and Greenshank yesterday.
Wet weather is never ideal for raptor watching however Marsh Harrier, Buzzards, 2 Kestrel and Sparrowhawk all put in apperances. Yesterday at least 10 Buzzard and Peregrine.
Around 250 Teal today, singles of Wigeon, Pintail and Shelduck, 50+ Gadwall, 20+ Shoveler, 5 Tufted Duck, 400+ Greylag, 150+ Canada, 2 Whooper Swan (over summered), Pink-footed Goose (injured), 2 Mute Swan and a Barnacle Goose yesterday.
Meadow Pipits moving overhead this morning, a classic autumn sound. A couple of Jay flew through the reserve, another sign of autumn.
Also seen, Kingfisher (2), Bullfinches, Cetti's Warbler. Swift still passing through the reserve. Good numbers of House Martin and Swallow feeding high when the conditions are right.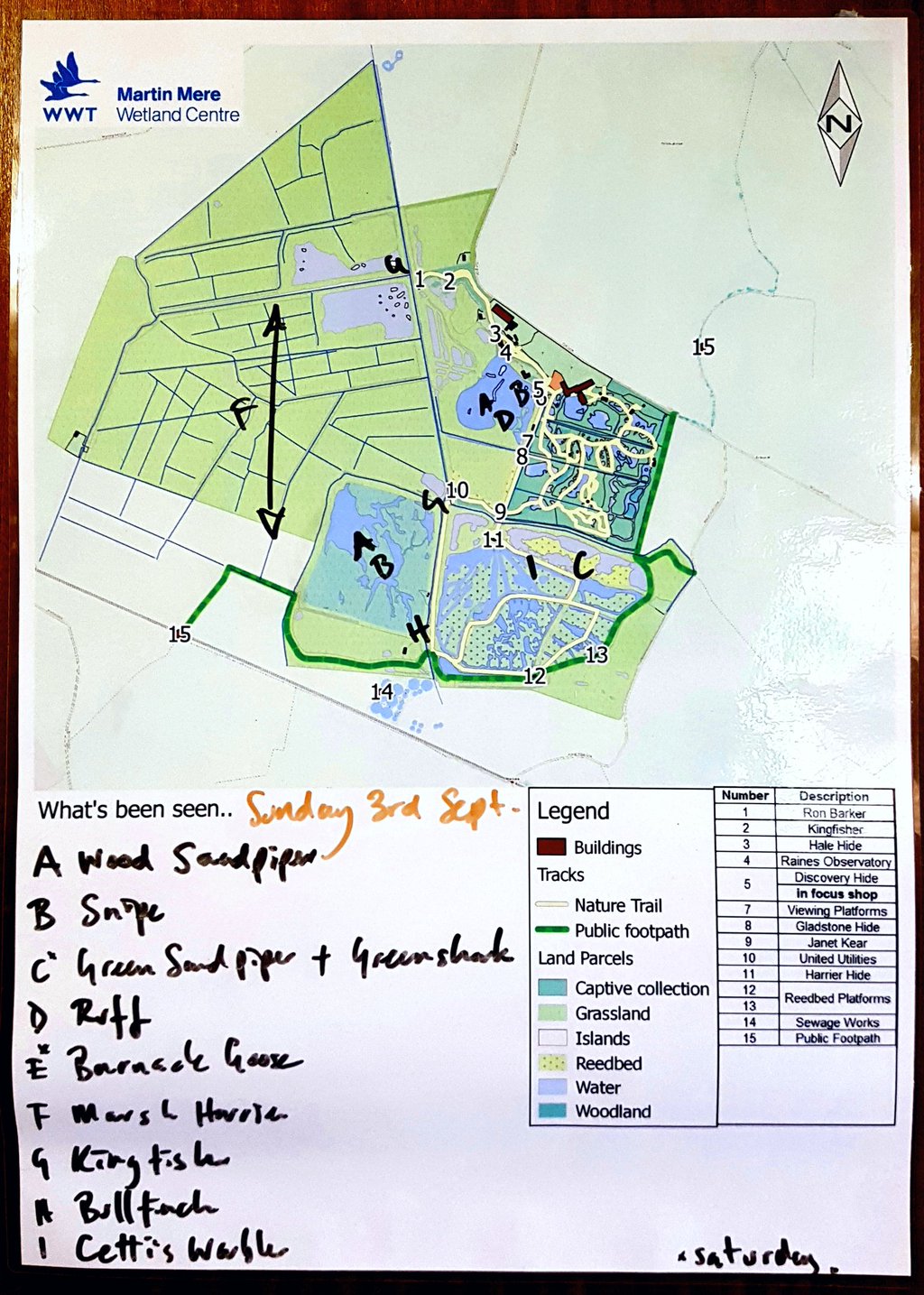 Check out the previous days sightings for a fuller picture as to what you might see on your visit and do call in at the in focus shop to report any sightings, see the full list of birds and get an idea were best to look on and around the reserve.
The predict-o-meter suggest looking for Pectoral Sandpiper in the next week.