We're creating and restoring 130 hectares of wetlands along the Somerset coast, funded by the Green Recovery Challenge Fund (GCRF).
At WWT, we believe one of the best ways we can help meet the challenges of today's climate, biodiversity and wellbeing crises is by working with nature.
To build a future that helps people and wildlife adapt to climate change, we're creating and restoring 130 hectares of incredible wetlands all along the Somerset coast.
Funded by the Green Recovery Challenge Fund (GCRF), this network of wetlands is building climate resilience by storing carbon and cushioning us from the impacts of rising sea levels and increased flooding. These wetlands are also boosting biodiversity and helping protect our health and wellbeing.
Where we are working
Our work centres on our nature reserve at WWT Steart Marshes. It includes the Steart Peninsula and takes in the strip of coast that runs from the Mendips south to Bridgwater. It also covers the Doniford and Monksilver river catchments between the Quantocks and Exmoor.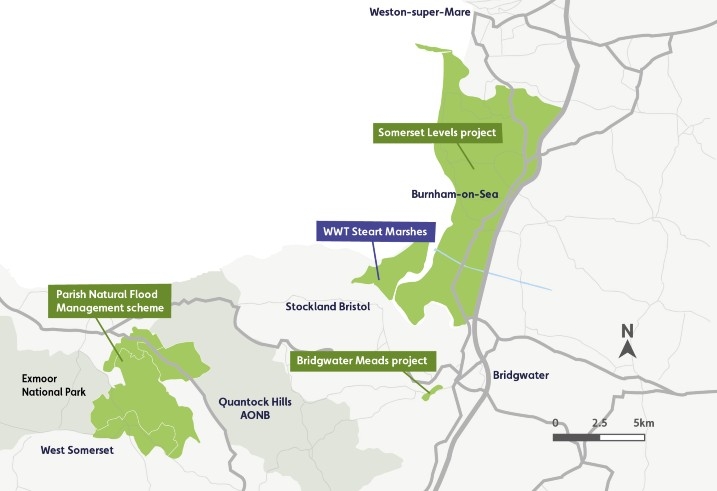 What we are doing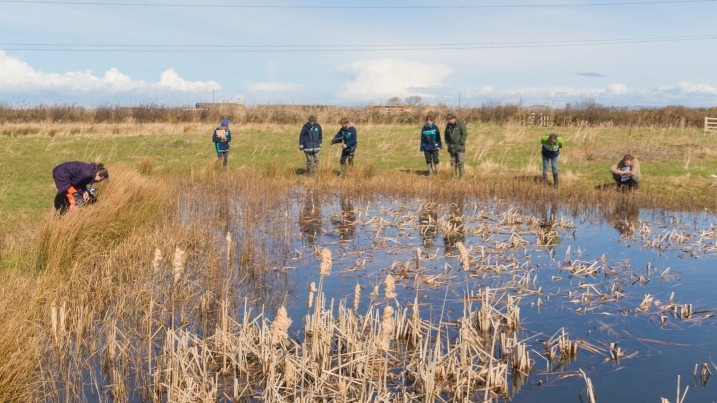 Creating bigger, better, more connected wetlands
Coastal saltmarsh and freshwater ponds are some of our most precious habitats and this is where we're focusing our efforts.
At Steart Marshes we are establishing shallow wetland hollows to improve the freshwater, brackish and intertidal wetland habitats and to create safe roosting in winter for waders like snipe and redshank.
Across the Somerset Coastal Levels we're working with landowners to restore farmland ponds and watercourses. Due to changes in agricultural methods, many of these wetlands are being lost, but they're incredibly important places for wetland nature. Many species rely on farmland ponds at different stages of their lives and without them many would struggle to survive. We're also training volunteers to help us monitor the impact our Somerset Pondscape project is having on boosting local wildlife.
In Bridgwater, we're restoring wetlands at the Meads, helping to regenerate blue (water) infrastructure in the town.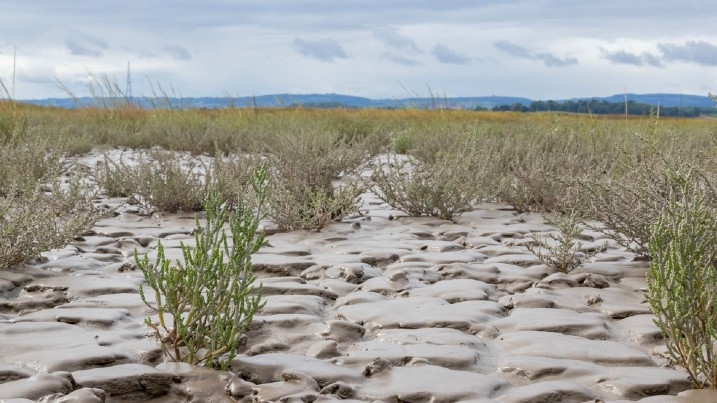 Using wetlands to store carbon
Climate change is our greatest threat. But we believe we can help address climate change through the use of nature-based solutions. Wetlands, like coastal saltmarshes, play an important role in limiting the amount of carbon in the atmosphere. By trapping carbon in their soil they store more carbon than other habitats like forests.
WWT's wetlands at Steart Marshes are at the forefront of ground-breaking research being carried out by scientists from Manchester Metropolitan University, that's demonstrating the real potential of this 'Blue Carbon' in our fight against climate change. It's estimated that in the first four years of its creation Steart Marshes stored 35,000 tonnes of carbon. That's the equivalent of two million trees grown for ten years.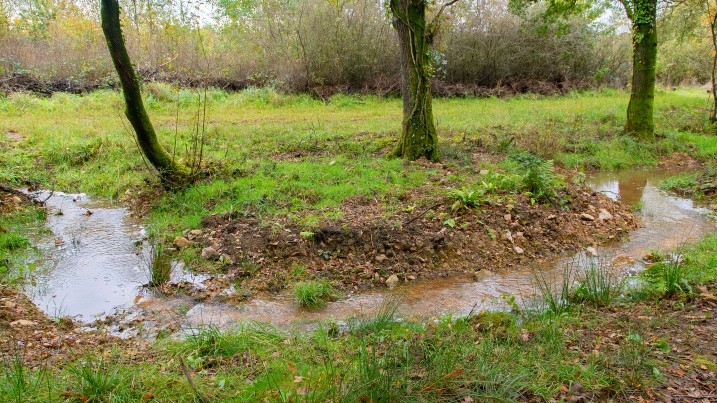 Using wetlands to manage our flood risk
Flood risk is now one of the UK's top climate change risks with climate change significantly increasing the severity of extreme rainfall events. The Government is prioritising the creation of flood defences, doubling its flood defence budget to 52 billion pounds. But while physical flood barriers, like concrete walls and dams, or hard engineering solutions as they're called, have an important part to play in protecting our homes and businesses from flooding, they're expensive and not always the most appropriate or most cost-effective solution for protecting every village, town and property that floods.
Instead we believe this flood risk can be addressed through the use of Natural Flood Management (NFM) techniques. We're using wetlands, like flood plains, ponds, wet woodlands and woody dams to reduce flooding by helping to regulate the movement of water throughout landscapes.
We're working across West Somerset with farmers, landowners, businesses and the wider community to encourage more widespread use of NFM to manage flood risk and boost biodiversity.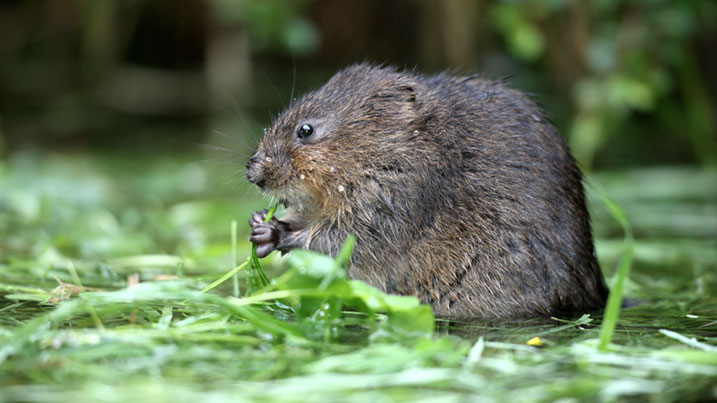 Using wetlands to improve water quality
The UK is committed to improving water quality, however current targets are highly likely to be missed. By removing nutrients, pesticides, sediment and pollutants, wetlands like those used in our NFM work will also help improve water quality. Improved water quality will help the whole freshwater ecosystem flourish, from invertebrates to birds and mammals like bats and water vole.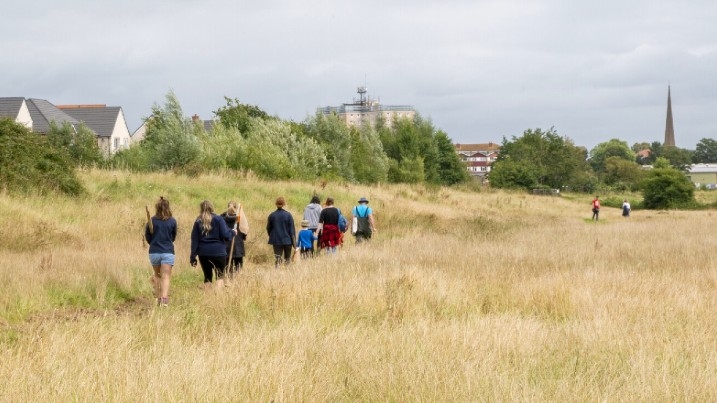 Using wetlands to connect people with nature and improve health and wellbeing
Evidence is mounting that a 'blue' environment can be as good or better for you than a green one, and that living near or being able to visit coast, rivers and lakes increases people's reported levels of mental health and wellbeing. However, access to such places is very unequal, with some ethnic groups and low-income families particularly disadvantaged.
We're meeting this challenge by looking at how we can create more wetlands closer to where people live and work in Bridgwater as part of the Bridgwater Blue Heritage Project.
We're also working with health care professionals through our 'Blue Prescribing Project' so that they can refer people to our wetland-based health programme, which is designed to enhance people's connection with nature and so improve their wellbeing.
We are connecting local communities with nature and the benefits of wetland conservation through community events, and by providing training for volunteers and citizen scientists. Please contact Hannah Bailey, if you'd like to get involved in events and volunteering.