We believe wetlands have a unique role to play in supporting our physical and mental health. That's why we're researching the impact our 'blue' spaces have on our health and wellbeing.
Our research has one common goal; to learn more about the complex relationship between wetlands and wellbeing. We're then using this evidence to maximise the benefits of wetland nature for as many people as possible and ensure key decision makers recognise and value them too.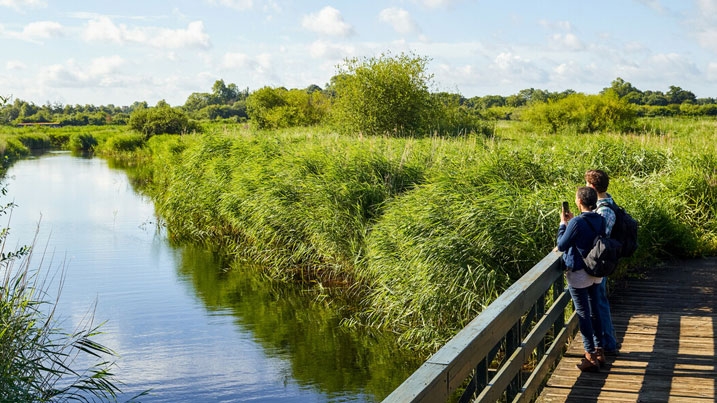 The challenge
We are facing a wellbeing crisis. Non-communicable diseases such as depression, anxiety, obesity, asthma and heart disease now account for 89% of deaths in the UK and are now our greatest concern. Economically they place a huge burden on our health and social care service.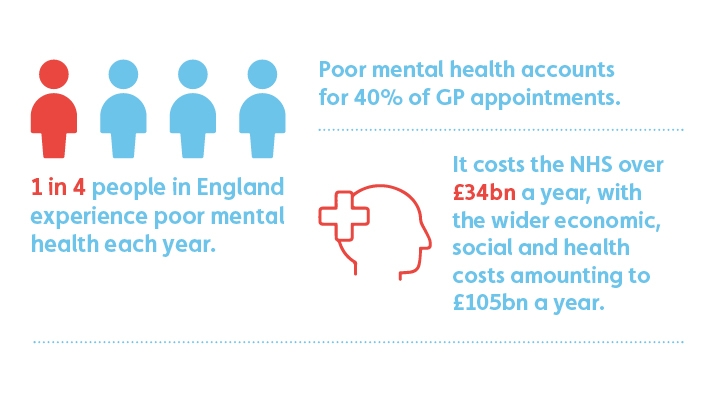 The COVID pandemic highlighted just how important spending time in nature is to our health and wellbeing, hastening calls for a better understanding of how these benefits might differ between different areas and communities, and how we can make the best use of these benefits to improve community health and society. To date much of the scientific research has focused on urban green spaces and coastal areas, with blue spaces often being overlooked. WWT is working to change this.
What we are doing
By partnering with leading UK universities, community groups and mental health charities we're working to fill this knowledge gap and understand the relationship between human health and wetlands.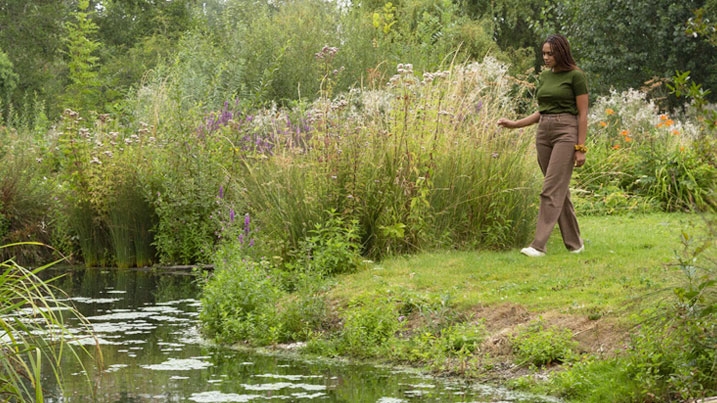 Building the evidence base
We have conducted pilot studies to test the application of new wearable technology to understand how wetland experiences impact our brains and bodies. Our research shows that just ten minutes spent in urban wetlands can be enough to improve a person's mood.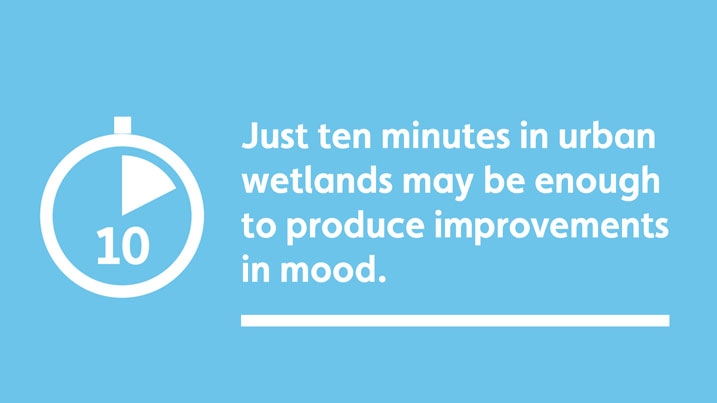 We have carried out research with visitors to our wetland centres to better understand the health benefits these visits bring. Our findings show perceived benefits include relaxation and mental restoration, and highlight how biodiversity and having good amenities are important qualities to consider when planning, managing and encouraging people to use natural environments for health benefits.
Our research into Nature Based Interventions (NBIs) based in wetlands, shows they are an effective therapy option for people living with anxiety and depression. The average wellbeing effect of the course on participants was valued at £4,848.
The Blue Prescribing Project
Our Blue Prescribing Project is a new innovative form of social prescribing (a nature prescription) which enables health care professionals to refer people to non-clinical services to improve their health and wellbeing. The project not only looks at individual benefits to people's health, but also how these types of nature-based health programmes might be mainstreamed.
To support this mainstreaming, we are also providing evidence of the economic benefit of nature prescribing. Our research shows that every £1 spent on WWT Blue Prescribing and wider activities at WWT Steart yielded £9.30 of 'social value' for participants.
Every £1 spent on WWT Blue Prescribing and wider activities at WWT Steart yielded £9.30 of 'social value' for participants.