A very different type of duck, designed by the world-famous Bristol based Aardman studios, landed at WWT Slimbridge Wetland Centre, Gloucestershire today. Dusty Duck has been designed exclusively for the Wildfowl and Wetlands Trust (WWT) by Aardman studios to celebrate WWT Slimbridge's 70th anniversary.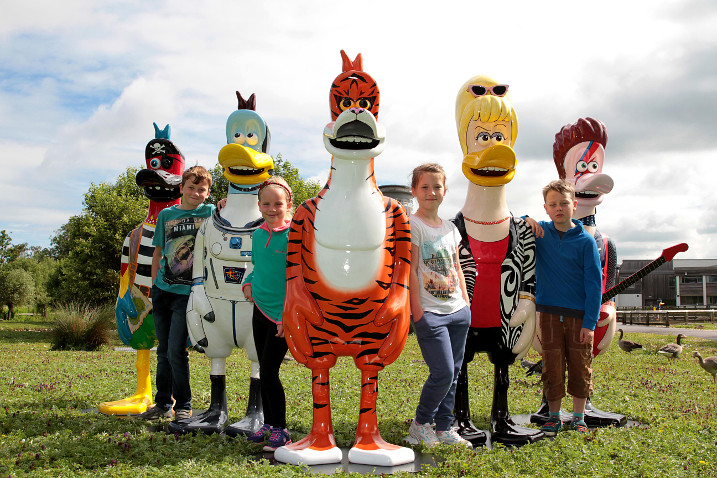 And it's not just one Dusty appearing at Slimbridge this Summer from 9 July – 10 September – there are 14 GIANT 6 ft Dusty Ducks for the public to discover on a special trail, each designed by a celebrity, including:
Joanna Lumley's Absolutely Fabulous Patsy Dusty
Chris Packham's Ziggy StarDusty
Justin Fletcher's Pirate Justy Dusty
Smarked's (CBBC's Sam and Mark's) Tiger Dusty
Steve Backshall's Explorer Dusty
Kate Humble's Camo Dusty
Matthew Baynton's (Horrible Histories) Sir Quackalot Dusty
Michaela Strachan's Springtime Dusty
Ellie Harrison's (Countryfile) Astro Dusty
Joanna Lumley, who is appearing in the new Absolutely Fabulous film, recently released on 1 July, said:
"I'm very proud of my Patsy Dusty Duck – she's absolutely fabulous! And what's even better is that she and the other fab Dustys will help children fall in love with amazing wetland wildlife."
Chris Packham from BBC's Springwatch series said:
"As Vice President of WWT and a massive fan of the late, great David Bowie I'm very proud of Ziggy StarDusty – he's a fine fellow. More importantly he and the other Dusty Ducks are an imaginative way to get the next generation engaged with nature and hopefully inspired to want to protect it for the future."
The trail will form part of the Nature Explorer family activities being run at the centre over summer. Families in Gloucestershire and the South West can pick up their Dusty Duck trail map from the admission desk and tick off the fantastic Dustys dotted around WWT Slimbridge's stunning grounds amongst the real-life ducks
Gary Hasely Nejrup, Slimbridge Centre Manager said:
"We're thrilled to welcome all our amazing, giant Dusty Ducks to WWT Slimbridge today – they look fantastic in amongst our real life wildlife. Kids (and big kids) will love all the different wild and wacky Dusty Ducks each designed by a well known celebrity with their own take on Dusty Duck. The trail is a great way to get children out and about exploring nature while having the most fun they've had all holiday."
The Celebrity Dusty Duck trail and Nature Explorers activities are included in admission. Find out more information here.