At WWT Wetland Centres this winter, discover amazing wildlife spectacles including swirling starling murmurations, the arrival of thousands of wild Bewick's and whooper swans from Russia and Iceland and huge flocks of rare geese flying in to their over-wintering grounds.
WWT centres are the ideal place to witness these breathtaking sights, with a range of comfortable, heated hides where all the action is right in front. Centres also run dawn and dusk events where visitors can marvel at the spectacle of thousands of winter birds gathering against beautiful early morning and evening skies.
Another fantastic way to see the winter birds up close is to join one of the regular wild swan and geese feeds, either in daylight or dramatically floodlit at night. You can round your day off with a warming drink and delicious food in beautiful cafes with views over the reserves.
Find things to do in winter with our events guide
Slimbridge Wetland Centre, Gloucestershire
Winter is a fantastic time to visit Slimbridge with up to 30,000 wild wintering ducks, geese and swans feeding and roosting on the reserve. Look out for huge flocks of wigeon, teal, lapwing and Bewick's swans. Watch golden plover twinkling as they flock together in the sky and keep your eyes peels for the elusive bittern skulking in the reedbeds.
A Bewick's swan about to take off from a lake (c) Steve Nicholls
Winter events at Slimbridge
Wild Bird Feed: 14 Nov – 18 Feb Witness the fantastic winter spectacle of thousands of wintering ducks and geese and hundreds of Bewick's swans being fed by our warden: 4 – 4.30pm from the heated Peng observatory. Included in admission, free to members
Swan Suppers Evenings: 30 Nov – 9 Feb Experience the beauty and sounds of hundreds of wild swans on a floodlit lake before enjoying a delicious two-course meal at the Kingfisher Kitchen. 6.15pm arrival. £29.95 per person and £26.95 per person for a group of 12 or more
New Year's Day Birdwatch: 1 Jan 2019 Make a great start to your year list with the chance of seeing over 80 species by joining our expert warden on their morning bird watch around the hides. 8-10.30am. £16.50 pp
Wild Winter Weekend: 5-6 Jan 2019 A host of special birding events including bird watch mornings with our swan researchers - 'guides in the hides' - to help with bird identification, special talks from WWT's experts, bird ringing demonstrations and more! All included in admission, apart from bird watching morning - £16.50 pp
Duck Decoy Demonstrations: 24 Nov – 23 Feb (Saturdays only) Witness the historic rural practice of catching wild ducks in a duck decoy using a specially trained dog. Once used for hunting the decoy is now used to catch birds for conservation. 2-3pm. Included in admission, free to members
Martin Mere Wetland Centre, Lancashire
Watch in awe as up to 2,000 whooper swans and 30,000 pink-footed geese arrive at Martin Mere from their summer breeding grounds of Iceland and discover their amazing journeys.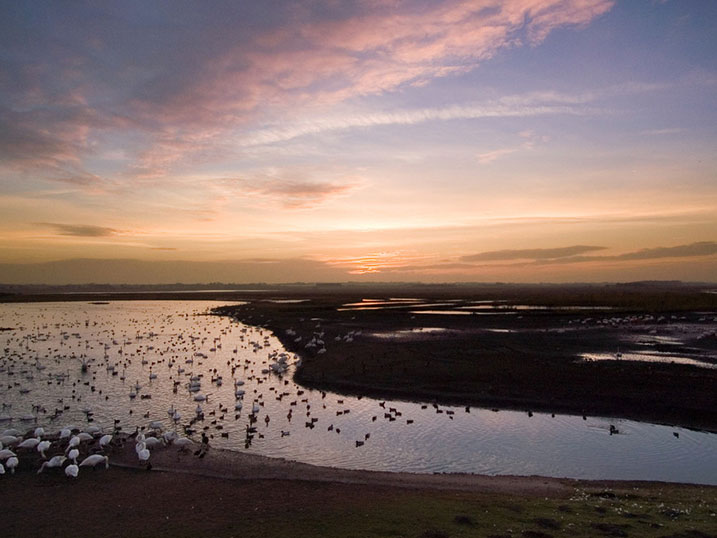 A winter sunset at Martin Mere (c) Richard Taylor-Jones / WWT
Winter events at Martin Mere
A Tale of Two Swans - Winter: Through the eyes of two of our regular Whooper swan visitors, Virginia and Sigrunn, discover why the North West is the only place that welcomes thousands of Whooper swans over winter in our series of events.
Spectacular Swan Feeds: One of the most beautiful sights in nature, watch as up to 2,000 Whooper swans come up close to the Discovery Hide for their daily feed. Our rangers will tell you all about the swan's migration. 3.00pm Discovery Hide, 3.30 Raines Observatory. Included in admission, free to member
Swan Experience: Using life size props, put yourself in the eyes of a swan in our daily swan experience. Included in admission, free to member
Swan Discovery Trail: The trail will teach you all about swans and how amazing they are – get your trail leaflet when you arrive and complete it as you go around the trail to get a certificate. Included in admission, free to members
Caerlaverock Wetland Centre, Dumfriesshire, Scotland
Enjoy seeing hundreds of whooper swans and thousands of barnacle geese arriving at Caerlaverock from Iceland from the heated, fully accessible Sir Peter Scott Observatory with breathtaking eye-level views of the birds flying in. Between October and March, the swans are fed in front of the observatory while the warden gives a commentary and answers questions.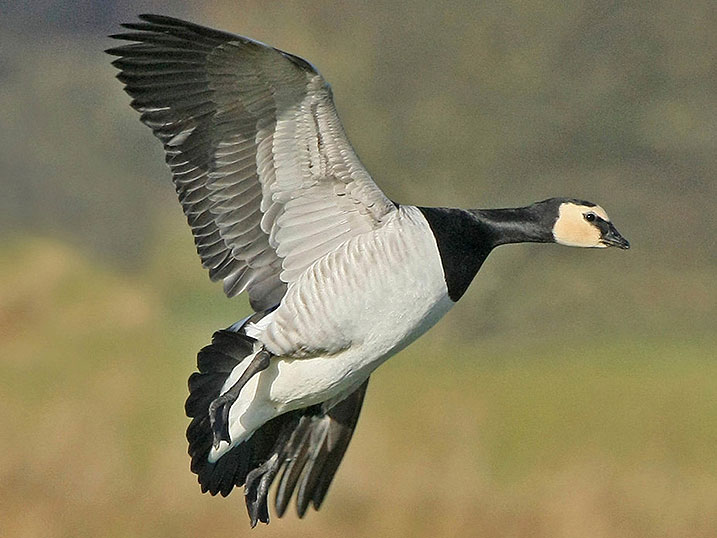 Winter events at Caerlaverock
Wild Swan Feeds: October to March: 11am and 2pm daily: Included in admission, free to members
Dawn and Dusk flights: Watch the amazing spectacle of thousands of wild barnacle geese flying in from the mudflats against the dawn and dusk sky. The coffee shop will be open for dawn flights to provide hot drinks and bacon rolls
Dawn Flights: 6 Jan and 3 Feb Included in admission, free for members
Dusk Flights: 13 Jan and 17 Feb. Included in admission, free for members
New Year's Day Bird Race: 1 Jan 2019: Start the year by challenging our warden to see how many bird species you can spot in a day. 10am – 4pm. Included in admission, free for members
Welney Wetland Centre, Norfolk
Wonder as 7,000 whooper swans and 2,000 Bewick's swans fly into Welney creating a breathtaking spectacle. Welney's heated observatory is the perfect place to take it all in.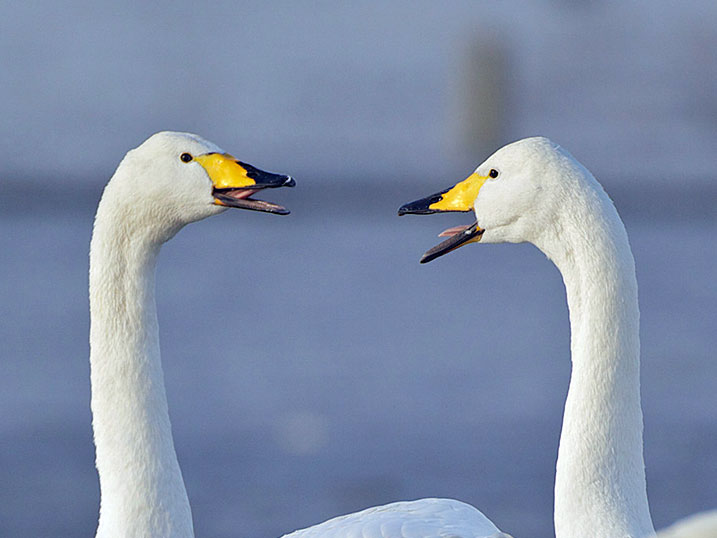 Winter events at Welney
3.30pm Swan Feed: 20 October – 10 March. Included in admission, free for members
12 noon Swan Feed: 26 December – 10 March. Included in admission, free for members
6.30pm Floodlit Swan Feed: 1 November – 28February (Thursday – Sundays inclusive). Included in admission, free for members
Swans Awake: watch thousands of swans take flight at sunrise in the evocative landscape of the Fens. 8, 9 December; 20 January; 16 February.
Festival of Swans: 19 and 20 Jan: Enjoy a weekend of swan related activities including walks, talks and trails. Included in admission, free to members
In addition to the amazing swan spectacles, Welney also runs a series of expert led Hare Walks throughout the winter: 1 October – 28 February (Mondays, Thursdays and Saturdays). Included in admission, free to members
Castle Espie Wetland Centre, County Down, Northern Ireland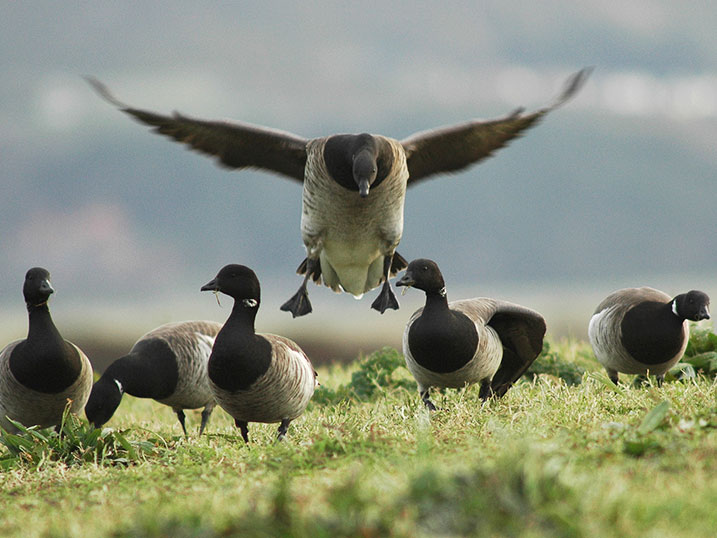 Marvel as tens of thousands of Light-bellied Brent geese arrive on Strangford Lough from their summer homes. Watch this amazing sight from beautiful viewing structures such as the Limekiln Observatory.