South Lake
Returning waders on the wader scrape was a welcome sight, at least 27 Red Knot and 150 Black-tailed Godwit were roosting and feeding with the Lapwing flock. The Red Knot has a rather misleading name at this time of year. All of these birds are in non breeding or first winter plumage, they will not attain the beautiful red breeding plumage until spring.
Red Knot among the Black-tailed Godwits and Lapwing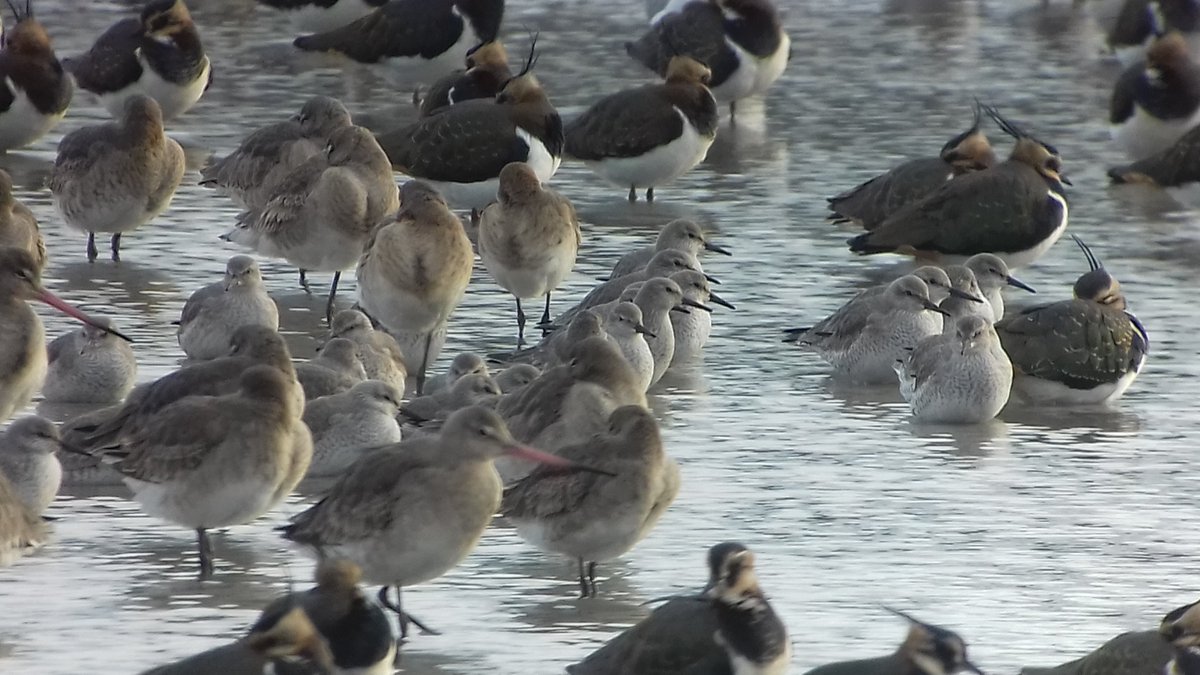 Zeiss Hide/Top New Piece
A real hot spot again today, a female Stonechat was in the reed bed below the hide with a Cetti's Warbler. Out on the marsh and flood 500 Teal, 1000 Wigeon, 180 Pintail, 1000 Lapwing, 90 Golden Plover, 500+ Dunlin, 12 Snipe, 12 Ruff, 1 Black-tailed Godwit, 3 Redshank and the returning Spotted Redshank.
Kingfisher Hide
18 Curlew were feeding on the Bottom New Piece field.
Holden Tower
Rather quiet at dawn but usually gets busier late morning to afternoon. A small party of Barnacle Geese and a Buzzard the only birds to report by 0820am.
Tack Piece from Robbie Garnett and Martin Smith Hides
A flock of 400 Wigeon included the leucistic bird +200 Teal. The vegetation below the RGH held a Cetti's Warbler.
Rushy Pen
The single Whooper Swan was among the 140+ Bewick's Swan flock.
Sightings were taken from the hide round between 0810 and 0945am, birds generally increase around midday and especially high tides and are mobile about the reserve.