The last two days have seen Storm Eleanor passing through with another storm following close behind. It coincided with very high tides pushing them up a bit higher than was expected. The Dumbles has been completely flooded, the receding tide has left shallow pools behind which is of course attracting large numbers of feeding birds.
Holden Tower
225 Barnacle Geese, 345 Canada Geese, 2 White-fronted Geese and the Red-breasted Goose until the tide came in. The birds returned as the tide dropped. Five Cranes were seen around midday.
Image below- Curlew heading back over the seawall to the Dumbles.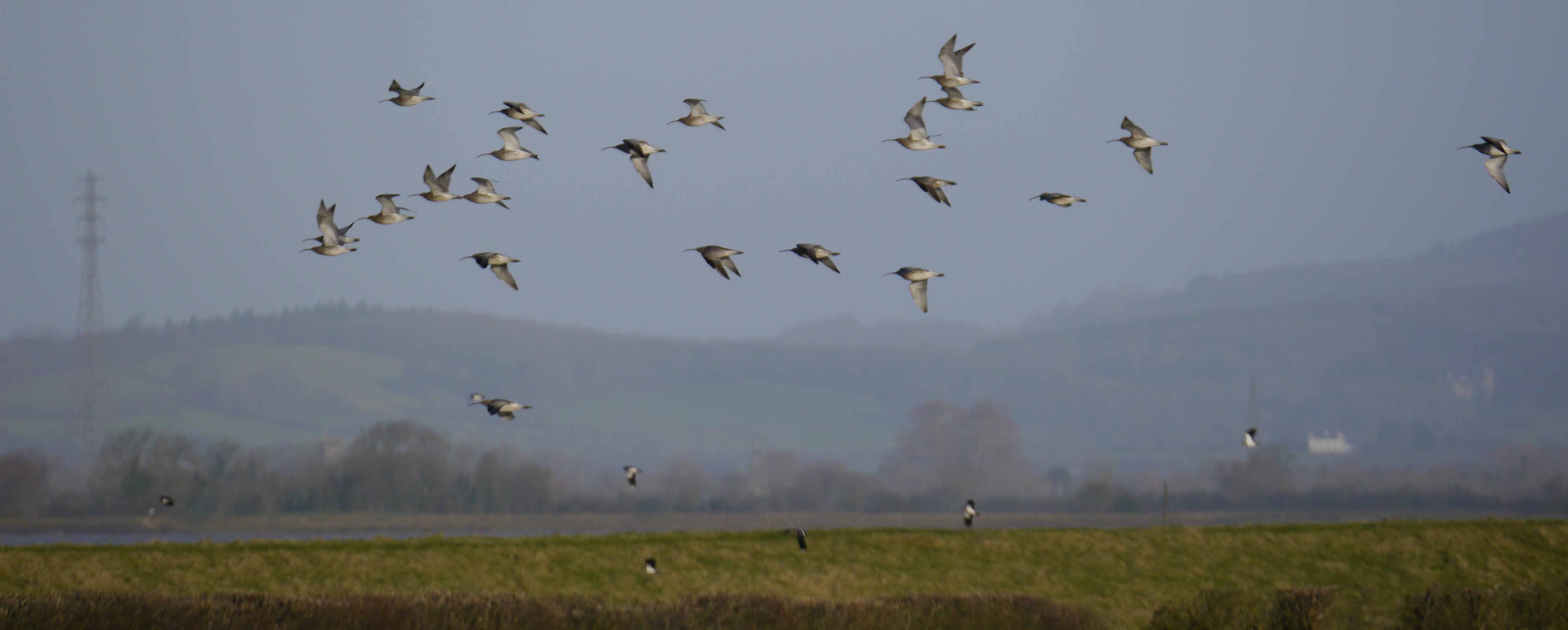 So far this week we've counted at least 490 Curlew as they roost together over the high tide periods. With the Dumbles flooding at least 401 were in the Tack Piece yesterday and again this morning, thousands of birds are feeding and roosting here, thanks to the rain it's now in full flood. Bird numbers fluctuate during the day, a passing Buzzard or hunting Peregrine Falcon will move them around. This morning 1000+ Lapwing, 400+ Golden Plover, 30 Black-tailed Godwit, 10+ Ruff, 20 Redshank, 230 Dunlin, 19 Shoveler, 324 Pintail, 700 Wigeon and 400 Teal. The Bewick's Swan began to arrive to feed from 0900am.
Image-Redshank, Ruff and Teal on the Tack Piece
Rushy Hide and Peng Observatory
88 Bewick's Swans present at dawn, most headed to the Tack Piece for the day. Up to 54 Redshank noted with 400 Lapwing and 6+ Ruff roosting out of the worst of the wind. At least 6 Snipe and 58 Pintail also chose to find sheltered spots here. At dawn and dusk large numbers of duck join the geese and swans for the feed.
Zeiss Hide
1800+ Teal, 28 Pintail, 18 Shoveler, 800+ Dunlin and 1000+ Lapwing present. At least 30 Snipe were in the rushes.
South Lake
Oystercatcher, 500+ Lapwing, 80+ Black-tailed Godwit, 124 Shoveler, 8 Cormorant and 110 Teal.