Today the team have completed the first breeding duck survey of the season with lots of broods of several species now just starting to hatch, including Tufted Duck, Gadwall, Shelduck, Shoveler and a few new broods of Mallard.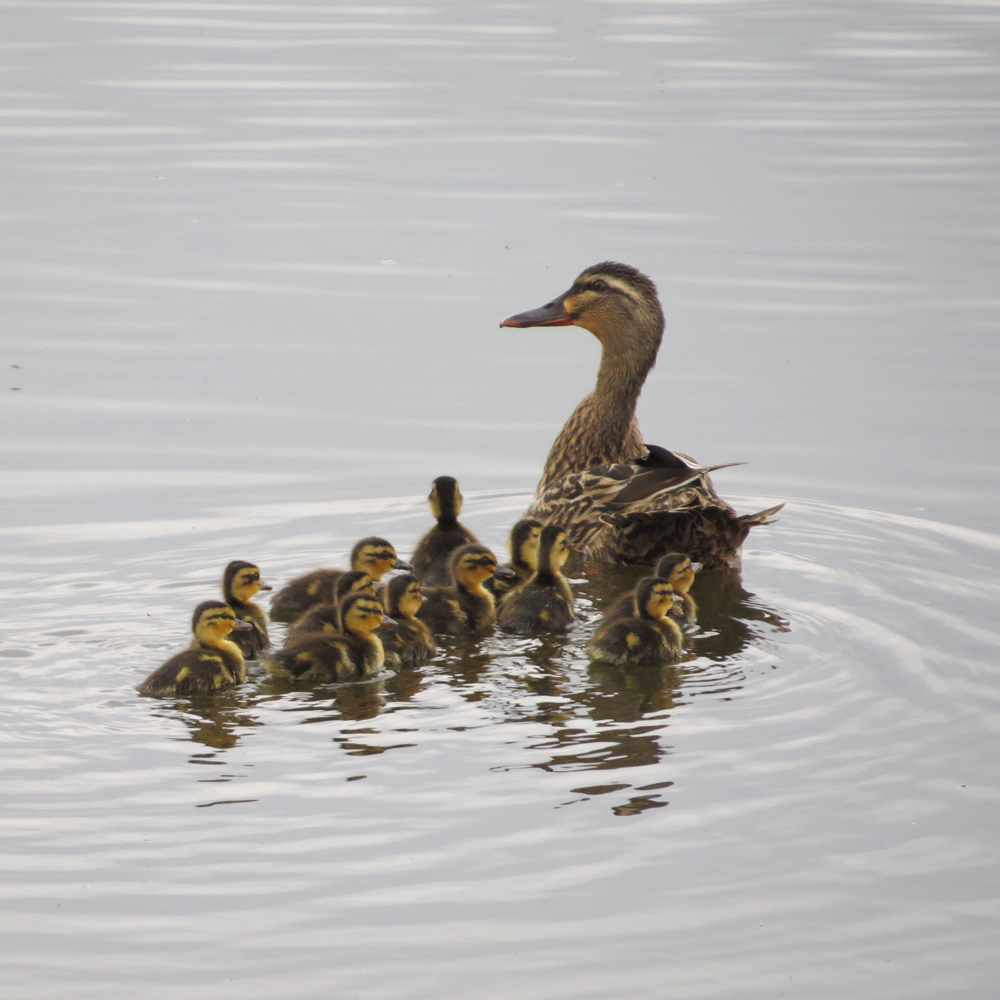 South Lake Hides
A total of 40 Avocet were on the wader scrape this morning, gearing up for second attempts at breeding so we should have chicks out here soon.  The Great Crested Grebe pair on the deep lake have also got a nest and are now incubating.  A brood of 7 Shelduck ducklings were also on the wader scrape whilst there are two pairs of Oystercatcher each with a chick.  Other birds of note included 7 Black-tailed Godwit.
.
Robbie Garnett Hide
There seems to be 2 families of Avocet on the Tack Piece with 3 chicks.  Out on the field were 49 Barnacle Geese.  A pair of Shelduck have a brood of 9 on the scrape.  Also present were a pair of Oystercatcher and a drake Shoveler.
.
Holden Tower
A flock of 14 Gadwall were on the Dumbles scrape along with 46 Greylag Geese and pair Barnacle Geese.  The Mute Swan pair still have 7 cygnets on the Pillbox Pool before walking them over the seawall to the Dumbles.  A Little Grebe was also on the pool and a Peregrine was out on the mudflats on the river.
.
Rushy Hide
Lots of new life here including our Crane family with one chick, 3 broods of Avocet, a brood of Oystercatcher with 2 chicks, 3 broods of Shelduck and 2 broods of Gadwall.  At least 2 juvenile Lapwing are also showing well from the hide as were 4 juvenile Pied Wagtais, and an adult Mediterranean Gull was seen here this morning.
.
Zeiss Hide
We've finally managed to confirm that the Cranes nesting here have hatched 2 chicks, they could be seen this lunchtime on the island amongst the vegetation and may now be a couple of days old.  Also on the scrape were at least 3 juvenile Lapwing, and a few broods of Avocet.  A brood of 7 Gadwall were also seen.  Otherwise non-breeding duck numbers are gradually creeping up with more Teal arriving and at least 60 Gadwall present.  The two over summering drake Wigeon also remain here with several Shoveler.
.
Kingfisher Hide
Not much action from the Kingfishers today but both the male and female were seen.  We've had several sightings of juvenile birds on the South Lake this week, so the youngsters may well have left home.  The Little Grebe family appear to be down to 3 chicks.  A Cuckoo was singing from the South Finger Extension this morning, and another from the Canoe Trail.  Two other males were also heard to the north of the reserve along the Land Rover Safari route.