The first Tufted Duck brood was recorded in the 100 Acre reed bed today, we should see dozens more hatching over the next few weeks. Additional Shelduck broods have appeared on the estuary and can be seen from Middle Point. See image below. A brood of Gadwall are on the Rushy.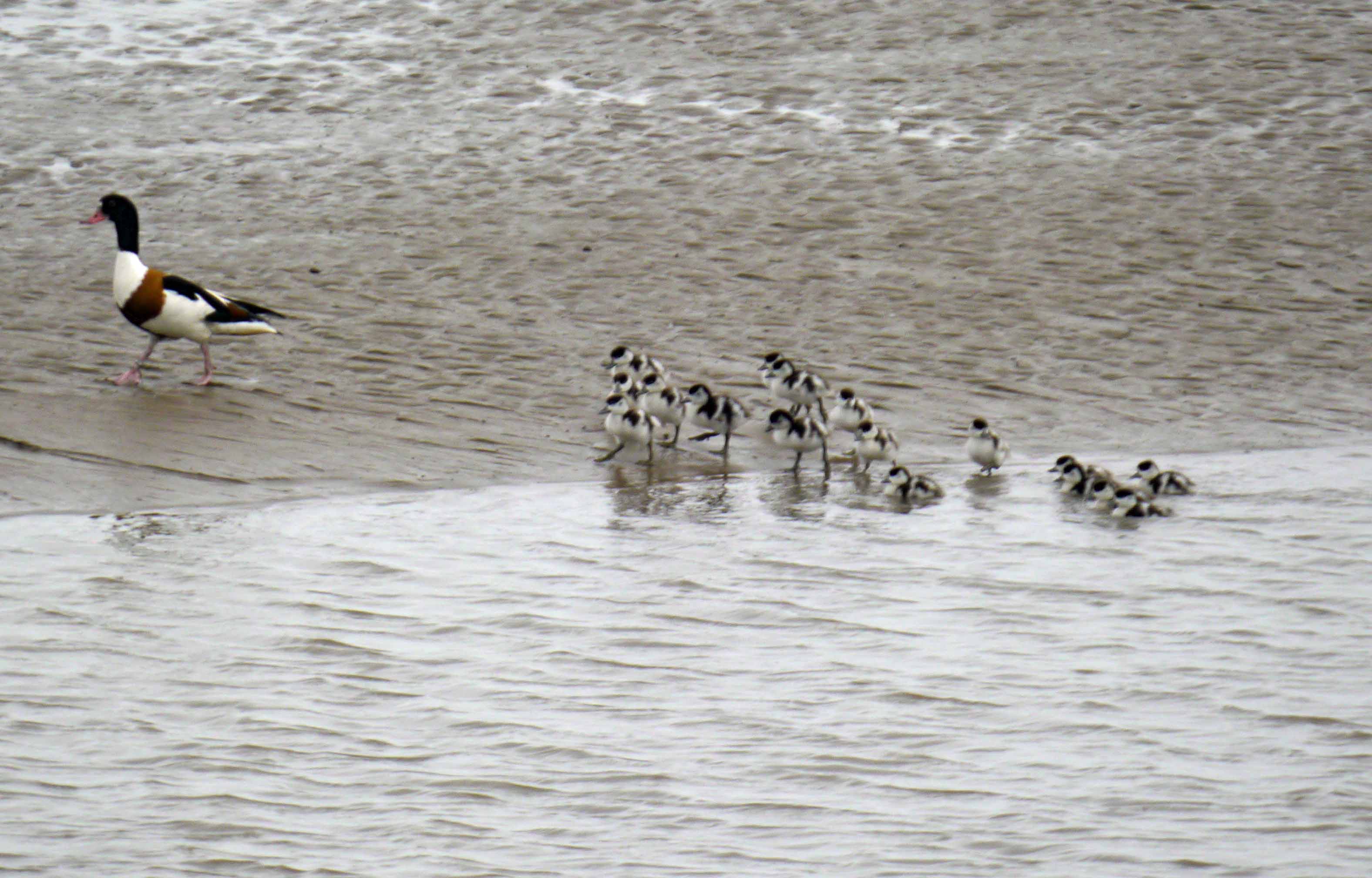 Rushy Pen
Crane pair with a single chick, plenty of Avocet activity with hatched chicks, incubating birds and new pairs nest building. The fledged Lapwing brood is visiting from the Tack Piece. Two drake Pochard were among the Tufted Duck, Shelduck, Gadwall and Mallard. Two 2cy Mediterranean Gulls roosted over lunchtime.
Tack Piece
The Lapwing family with three fledged young were near the hide but can now fly, they are visiting the Rushy which is where they hatched. The drake Wigeon is still on the scrape with a couple of pairs of Avocet.
Holden Tower
Little Grebe and Reed Warblers on the Pill Box Pool, a Cuckoo sang from the Decoy.
Middle Point/Severn estuary
6 Ringed Plover, 2 Curlew, 2-3 broods of Avocet, 2 broods of fledged Lapwing, singing Skylark and Meadow Pipits. 10 Dunlin and two Sanderling were also seen.
South Lake
The Black-tailed Godwit flock (114) was split between duck marsh and wader scrape, lot of new Avocet activity with 7 new nests. A pair of Teal and a few Shoveler and Gadwall were on the scrape. The pair of Great Crested Grebe and 3 drake and 2 duck Pochard were the highlight on the deep lake, the gull colony has 'disappeared' in the nettles. The Crane pair still have two chicks. It seems the Mediterranean Gull pair have failed as both appear to be loafing away from the nest.
Zeiss Hide/Top New Piece
73 Gadwall, 8 drake Teal, 15 Shoveler and 46 Shelduck on the flood as well as 19 Avocet and the nesting Crane pair, unfortunately we have seen signs that don't look so good with the birds off the nest and acting oddly, we'll be watching closely.