Slimbridge is home to over 300 hectares of wild wetland nature reserve with spectacular views of the Severn Estuary. Our internationally important natural intertidal saltmarsh gives way to wet grasslands and shallow lakes and ponds which are a haven for wildlife.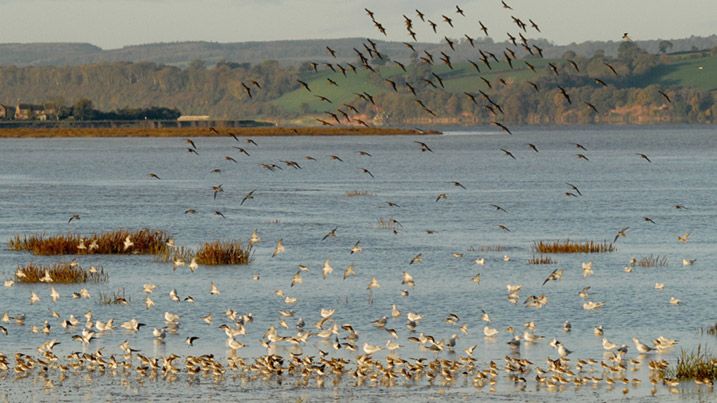 Opening summer 2020
Summer Walkway and Viewing Platform
During the summer months (open April – October) explore the natural wildlife and landscapes of the Severn Estuary. Look out for amphibians, dragonflies and butterflies in the new ponds on your journey.
Visit our new fully wheelchair accessible walkway and viewing platform overlooking the River Severn. See if you can locate May Hill and the Forest of Dean on the other side of the river!
Look inside the World War II Pill Box that WWT founder, Sir Peter Scott used as a bird hide and retreat from the weather when out birdwatching on the Severn Estuary.
Goose House
Built just after 1800, this tumbled down ex-shooting lodge was historically used by the Berkeley family, and often with royal guests. The hut has been completely rebuilt to replicate a working Goose House and is fully wheelchair accessible provides new bird watching opportunities over the 'Tack Piece' area of the reserve.
Shepherds Hut
The accessible Summer Walkway ends at the Goose House, but for intrepid visitors, the path continues over the sea wall to 'Mid-Point'.
Here during the summer months you will find an authentic Shepherds Hut that will offer shelter when the weather changes.
Wild Safari by 4x4
Go into the wild with our Reserve Wardens, splash through ditches and trundle along the sea wall.
Discover birds, wildlife, flowers and plants at stop-offs along the way, this really is a brilliant way to discover UK wildlife at its best and to go behind the scenes for access to the Reserve that you wouldn't get to see.
Things to do:
Explore wild areas of the reserve on our wheelchair accessible Summer Walkway
Discover the World War II Pill Box used by Sir Peter Scott
Get off the beaten track and go beyond the seawall and if it rains pop in the Shepherds Hut for shelter
Get access to behind the scenes parts of the reserve in a 4X4 trailer on a Wild Safari (May- September)


Project update
Thanks to the support of the Heritage Lottery Fund we've rebuilt the old Goose House using traditional techniques, such as hand-carved wood and lime work. We've created a wheelchair accessible viewing platform and opened the portable Shepherds Hut on the sea wall.