The rapid thaw was welcomed, many birds were struggling with the intense cold and snow covering feeding areas. Perhaps the worst affected species has been Lapwing. The warmer conditions allowed many of our bird species to finally feed again. The Severn came to the rescue, a high spring tide flooded the Dumbles which in turn defrosted it further and deposited food for the struggling waders.
Holden Tower
Five Red Knot, 2 Grey Plover (over the tide) and a Ringed Plover were all new in, perhaps spring migrants or possibly displaced by the cold. They were seen on the now flooded Dumbles and briefly in the Tack Piece. 800+ Dunlin fed on the floodwaters with Redshank, 40 Golden Plover and 30 Lapwing (latter two species increased during the day). A single Avocet fed in the floods for a time. 1000+ Wigeon and 120 Pintail were also on the Dumbles along with the Barnacle Goose flock, they also had the Red-breasted Goose and three Dark-bellied Brent Geese among them.
A small flock of Wigeon and Teal, a few Shoveler and Shelduck were happy on the ice free section. A pair of Oystercatcher and Redshank were seen. Water Rail fed in the copse area with 2 Song Thrush for company. The Bewick's Swans settled here and hadn't returned to the Rushy by 4.45pm.
Tack Piece
Still largely frozen but c25 Bewick's Swans settled here for the day. 2-3 Cranes were also seen. 118 E. White-fronted Geese spent much of the day asleep here, often a sure sign they are about to depart.
Juvenile Bewick's Swan lands on the ice with two E. White-fronted Geese watching on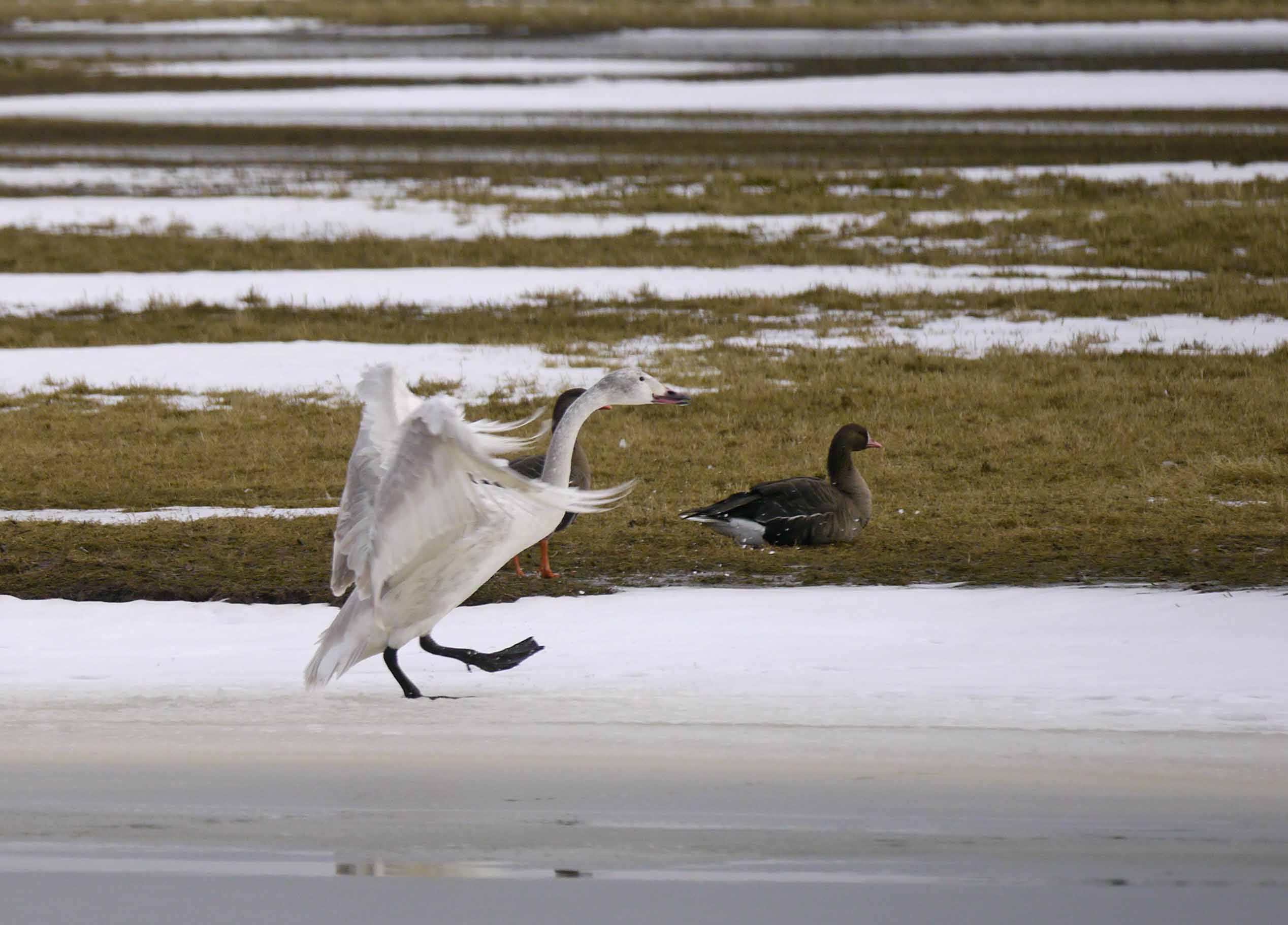 Willow Hide
Water Rail and Teal were under the feeders along with a variety of common passerines.
South Lake
A single Avocet, 61 Black-tailed Godwit, 8 Lapwing and c90 Dunlin. 350+ Tufted Duck with c60 Pochard.
Rushy Hide and Peng Observatory
75+ Bewick's Swan and a variety of duck including flocks of Pintail
Zeiss Hide
Small flocks of Wigeon and Teal with 2 Bewick's Swans
Car Park
Single Siskin and Redpoll were seen here today