IMAGE: Sarah Vonthron-Laver with her family and 'Haring Through the Seasons' 
WWT Slimbridge is super hare-cited to be sponsoring the beautiful creation that is 'Haring Through the Seasons' as part of The Cotswolds AONB Hare Trail currently taking place across the Cotswolds until September the 9th. You can find illustrator Sarah Vonthron-Laver's 'Haring Through the Seasons' welcoming visitors at the entrance to WWT Slimbridge – a giant 5ft tall colourful hare, vibrantly depicting a hare in four seasonal Cotswold landscapes.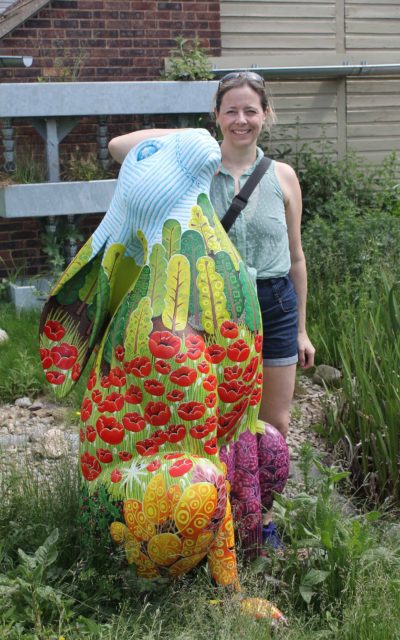 Sarah Vonthron-Laver comments:
"When the opportunity came up to paint a Hare for the Cotswolds hare trail I leaped at the chance. I like the idea of bringing art into the public domain when they can get right up close, and in this case to raise awareness of the fragile nature of our landscapes in a way that excites and engages."
In its fifth year the Cotswold Hare Trail has partnered with the Cotswolds Area of Outstanding Natural Beauty (AONB) and includes a mighty 130 hares, leverets, and springers waiting to be discovered all over the Cotswolds. The trail explores the theme of living landscapes to promote sustainable tourism and environmental conservation, which makes it fitting that WWT Slimbridge is host to one of these proud hares up on its hind legs to welcome visitors.
Sarah Vonthron-Laver comments:
"During the creation of the hare, I have learned so much about Slimbridge, their ethos and how they promote strong links between art and nature. I feel that 'Haring through the Seasons' has found his natural home."
IMAGE: Sarah Vonthron-Laver with her hare – 'Haring Through The Seasons' 
On 'Haring Through the Seasons' spot some of the features in the design particular to Slimbridge, along with a hare reveling in each seasonal landscape and tag us in @WWT Slimbridge @CotswoldsHare.
It's not too late to join the hare spotter competition and be in the running for the winning bronze 18-inch leveret prize among other fantastic runner-up prizes. The star prize for the person who finds all 130 sculptures will win their own 5-foot hare to decorate!
Pick up a Cotswolds AONB Hare Passport Guide at WWT Slimbridge or download a map online to begin.
So don't hesitate – hop to it!
All entries must be completed by September 10th with the public pre-auction viewing of hares event (Farewell to Hares) at Kings Head Hotel, Cirencester taking place from the 16th-21st of September. Find out more about how to participate at www.cotswoldsharetrail.org.uk