We are delighted to welcome back a Mobiloo vehicle on site to provide a mobile toilet and changing facility for visitors with disabilities on set days this summer and autumn. Mobiloo provides all the amenities to support people with a variety of toileting needs including an electric hoist, adult-size changing table, and assistant.
After a trial day in June, when Mobiloo was on site for the first time, we received an overwhelming show of support for this sort of facility provision.
Fran Penny, Visitor Experience Manager, commented:
'Since Mobiloo's last visit in June it has been lovely to see such a positive reaction for the facility's presence here, and we look forward to welcoming people back again to make the most of this 'changing places' provision over the next couple of months.'
Here are just a few of the responses from visitors after Mobiloo's last visit: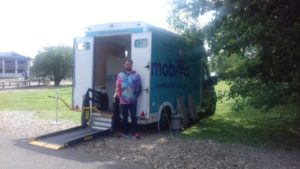 Visitor, Karen Miller commented:
'Great facilities! It was amazing because we didn't have to do the sometimes difficult transition back into the building. Well done Slimbridge.'
Visitor, Donna Potts commented:
'Well done, this opens up opportunities for families with adult children who cannot be changed on a little table in a loo. You are ahead of the game, keep it up!'
Slimbridge is working in partnership with Mobiloo to trial the mobile changing facilities provision over the next few months, for visitors to use and feedback to us, while of course making the most of all there is to see and do at WWT Slimbridge.
Mobiloo will be here on allocated dates during school holidays as well as one set date during term time in September, to enable large school groups to attend with the knowledge they will have access to mobile changing provision to meet a range of needs.
Upcoming Mobiloo access dates are as follows:
Tuesday 18th September
Wednesday 24th October
Please get in touch to find out more details about the particular location and timing of the Mobiloo and visit its website here for further information about the vehicle's facilities.
We can accommodate school groups of all sizes and learning capabilities, offering a unique combination of guided and self-guided learning sessions. Find out more about all the other activities available at WWT Slimbridge here, and if you'd like to arrange a group visit or find out more information please contact our Learning Team on 01453 891117 or via email.