Scott House is the iconic home of Sir Peter Scott and the place where he championed the cause of worldwide wildlife conservation through growing the Wildfowl and Wetlands Trust (WWT) and setting up the World Wildlife Fund (WWF).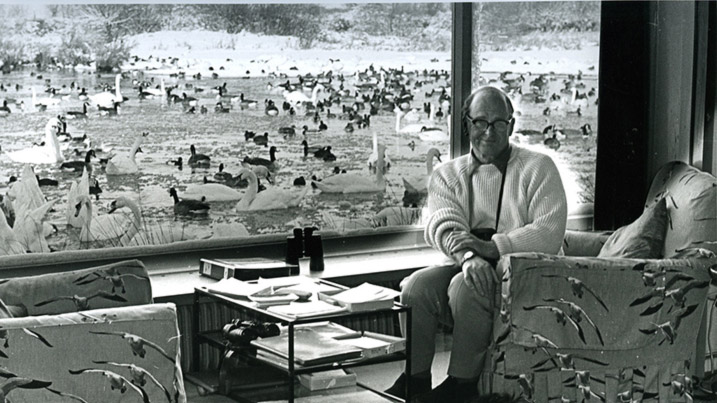 Scott House Museum - opening autumn 2019
Take a step back in time as you enter his home set in the 1980's, during his lifetime. Little has changed in his home since the 1950's and you will surprised to find out about his amazing life not just as the son of the famous Antarctic explorer Sir Robert Falcon Scott but as a pioneering wildlife conservationist, an artist, inventor, Olympic sportsman and Naval war hero.
Find out about his friendship with Sir David Attenborough and which members of the royal family visited his home, marvel at his original illustrations of Bewick's swans and reminisce about his days as a wildlife presenter on the BBC 'Look' TV programme
Things to do:
Find out how Sir Peter Scott made Slimbridge the birthplace of modern conservation
Be one of the first people to take a tour of Scott House bursting at the seams with his personal belongings – from his notebooks and sketches to his books and record collection.
Experience the spectacular views from Sir Peter Scott's studio over his beloved lake – the Rushy Pen
Explore the 1950s kitchen and hear stories of family life at Slimbridge
Discover the many famous names who have signed the Scott House visitor book


Scott House Guest Accomodation - opening summer 2019
Stay in the home of WWT founder, Sir Peter Scott. This truly unique experience is perfect for bird lovers and Scott fans! With unrestricted access to Sir Peter Scott's personal observation tower over-looking his beloved Rushy Pen where he'd spend hours studying and drawing the wild birds.
You will be able to sleep below his ceiling "thinking panel" – a panel over his bed where he placed works in progress which needed further thought and development.


Conference Space - opening April 2019
Scott House meeting room is available to hire.
With windows over the wild and wet Rushy Pen and folding doors onto Scott's garden, it is the perfect 'blue-sky' thinking space.


Project update
We've been working on renovating Scott House for the last year. Thanks to the hard work of our volunteers we've been cataloguing all the contents and have employed our first museum curator.
We've renovated the roof, replaced the windows, taken down the scaffolding and are currently bringing all the electrics, plumbing and heating up to date.
The pool area is being converted into a small conference facility, the upstairs into guest accommodation and the four museum rooms are being carefully conserved and returned to their original condition.