Although Slimbridge Wetland Centre is closed - due to the latest four week lockdown, we have swanderful news! The first Bewick's swans arrived yesterday (5 November 2020).
First to return this winter are pair Primero (male) and Piquet (female). Primero has been coming to Slimbridge since December 2012 and has been recorded every winter. Primero's name means first, so very appropriate - first by name, first by nature! Piquet was first recorded at Slimbridge in January 2016.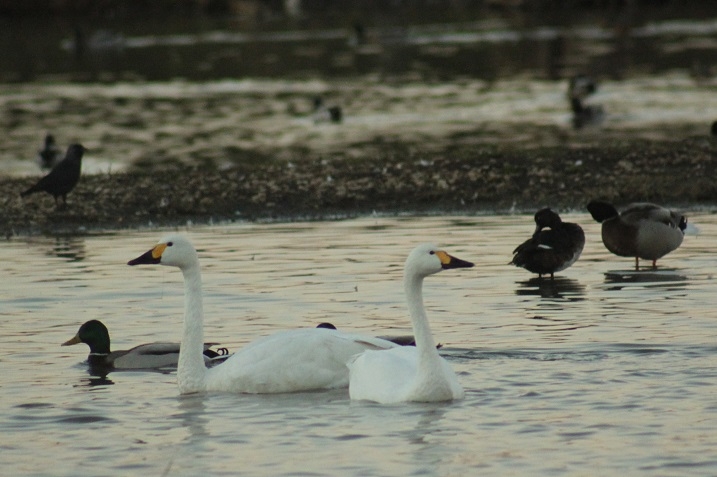 Photo credit: Placement Student, Kate Fox

Bewick's are small white swans with a black and yellow bill. Every winter they return to the UK to escape the Arctic winters of Russia, travelling an epic 3,500 km journey. The arrival of the Bewick's is spurred on by the onset of colder weather on the continent, and their need for access to ice-free wetlands. North-easterly tail winds also help them on their way.
Most Bewick's swans form pair-bonds during their breeding season in Arctic Russia, and often pair for life. There have only been two recorded instances of 'divorce' amongst the swans studied at Slimbridge, usually the birds pair for life but will repair if their partner dies. They migrate in their family groups, with the parents adapting their pace to that of their cygnets, some of whom would have been just three months old at the start of the migration. This means that families often arrive at their final overwintering home later than pairs and singletons.
Bewick's tend to be long-lived, but usually only two or three cygnets per family make it to their wintering sites in northwest Europe, and less than half of the population makes a breeding attempt each year. Numbers decreased from around 29,000 in 1995 to just 18,100 recorded in 2010, and conservationists are still trying to confirm the reasons for the decline. There is no evidence of a long-term change in the measures of breeding success, but possible reasons for the decline could be lower survival rates through illegal hunting, habitat loss and/or collisions with man-made structures such as power lines or a redistribution associated with environmental change.
Sir Peter Scott the founder of WWT dedicated much of his time to watching and studying Bewick's swans. He was the first person to notice that each bird has a unique bill pattern making it possible to identify individuals. The WWT conservation team who are based at Slimbridge have been using this technique to identify and record individual Bewick's swans for more than 50 years. Over that time, the comings and goings of individuals and family dynasties has led to over 10,000 swans being recorded, one of the longest single species study that has been researched.
We're sad to be closed during the lockdown period but you can look out for our new arrivals on the Slimbridge webcam.

For an extra special experience visitors are invited to access Slimbridge after hours to witness a spectacular commentated floodlit evening swan feed followed by a delicious two course meal at an Evening with the Swans. This event is due to take place on Saturday 12 and 19 December and Fridays and Saturdays through January and February, excluding New Year's Day.