Compressing a life as full as Sir Peter Scott's into one museum space isn't without its challenges. He was a wildfowler, a painter, an Olympic sailor, an accomplished skater, an inventor, a naval officer, a diver, an ornithologist and a conservationist no less.
Running out of material was never going to be an issue, but telling his story in a comprehensive way was paramount to making this project a success.
Thankfully, we had Sir Peter's Scott's house as a starting point, a character itself in Scott's life. Built on the banks of the Severn Estuary, it was intended to serve numerous functions; family comfort, scientific study, art and the provision of Slimbridge. He occupied the house from 1953 until 1989 so by turning back the clock to the mid-eighties, we could share most of his stories with visitors. We wanted to do this by highlighting carefully selected objects from the home which would help generate tales of Scott's many adventures.
Some objects chose themselves such as the framed WWF logo he designed and Lady Scott's written instructions on what the dog should have for dinner. It's these kind of quirky belongings that give us an insight into life in the house.
There has been no shortage of amazing discoveries as we've catalogued each item in the house. They range from photographs of famous visitors to Slimbridge to Sir Peter Scott's artwork and a 200 year old telescope.
But it's not just the prized oil paints and a welcome book bursting with signatures that boasts the Queen's and David Attenborough's that warrant attention. It's also the simple things. This is why one of my favourite objects is a cake mixer with a homemade fabric cover designed by Sir Peter Scott. Not many people know that Scott also designed fabric. So many things are covered in birds and every scrap of fabric was put to use. I love that absolutely nothing went to waste.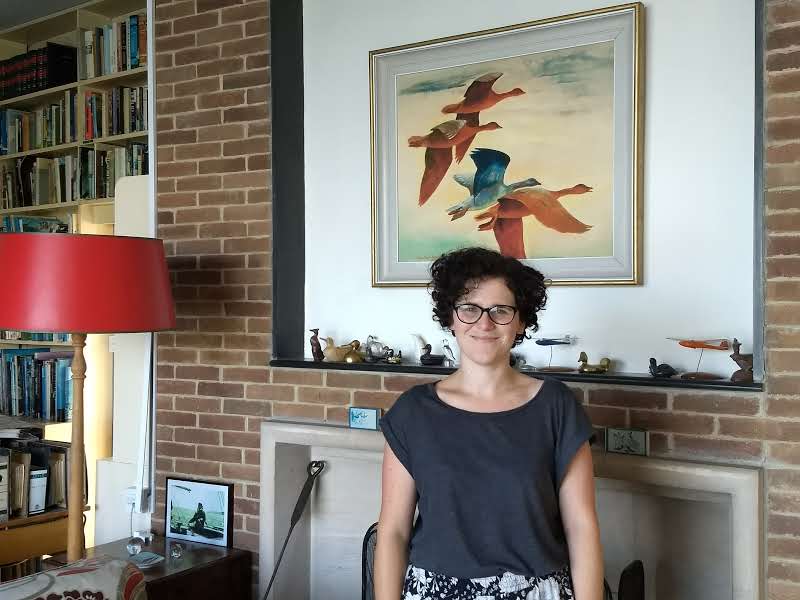 I am personally fascinated by his family life, when the children were still living at home. Philippa, Scott's second wife, recorded in her autobiography that the family used to have to crawl under that large, famous window in the studio, so as not to scare the birds. It was such an unusual place for Scott's children to grow up. There is a wonderful juxtaposition between domestic life and his extraordinary work, all blended together in this one unusual space.

I've loved the detective work. In most museums, a lot of the initial research into a special place has already been completed. But I got to come in right at the beginning. I got to look at the photo albums to recreate what the house looked like at that time, seeing an item in a photograph and recognising it from the house and joining the dots.
It's important that the house is set up so it looks like the Scotts have just popped out. We've moved their belongings back into the right places so as to bring the property to life. We've also had some really key items returned to the house. Dafila, Scott's daughter, gave us a chest of drawers complete with paints and brushes that she took when he died. He used to use the top of it as a pallet and it still smells of white spirit. It is so evocative of his artistic life. It really was one of those jack pot moments. I think these sort of objects capture his spirit – what he was really like. And the house will develop over time as visitors continue to share their many stories with us.
Scott House Museum opens from 2 September and tours are now available to book.