Visitors had the chance to step back in time and explore the home of the WWT's founder Sir Peter Scott as we hosted Heritage Open Days and celebrated Scott's 110th birthday on Saturday 14 September. This event was part of the Slimbridge 2020 project supported by The National Lottery Heritage Fund.
Scott built his home at Slimbridge Wetland Centre in the 1950s to accommodate his family and provide a base for his important conservation work. This domestic home is where Scott grew the Wildfowl and Wetlands Trust (WWT) and set up the World Wildlife Fund (WWF). Visitors were able to see Scott's hand-drawn designs for both of these organisations' famous logos on display in his studio in Scott House Museum. The studio which overlooks the Rushy Lake was also the focal point for Bewick's swan research, as well as the location for the first BBC natural history television programme, 'Look'.
Scott was also a prolific painter and in one corner of the studio visitors were able to view his artist's easel, complete with the last painting he worked on, an imagining of the London Wetland Centre, which opened 11 years after his death. As well as being an important site for nature conservation, this was a family home. The 1950's kitchen showcases mid-century domesticity and the dining room hosted important guests, many of which signed the visitor's book, including Her Majesty Queen Elizabeth. Heritage Open Days gave visitors the chance to see inside Lady Scott's sitting room which holds her vast photography collection, and volunteers were on hand in each room to share information on Scott and his life at Slimbridge.
Claire Rees, Collections Manager said; "it's been great to take part in Heritage Open Days and to be able to open Scott House Museum to the public. We've had a lovely reaction from visitors who have enjoyed finding out more about Scott and have the opportunity to wander through the rooms and experience the spectacular view across the Rushy Lake."
During the day, we also celebrated Sir Peter Scott's 110th birthday and Scott's family including his children Nicola, Dafila and Falcon stayed at the house throughout the weekend to mark the occasion.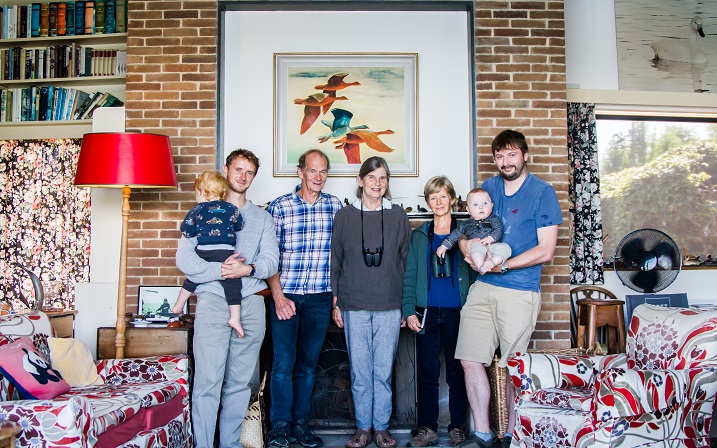 We would also like to say a huge thank you to all the volunteers who have offered their precious time and support to help get Scott House Museum up and running for the general public to enjoy!
If you missed Heritage Open Days intimate daily tours of Scott House Museum are also available, book here.
There will be an official Scott House Museum opening in 2020 when all aspects of the house are complete.