We're delighted to have won a CPRE Gloucestershire Award for our 'Nest' sculpture on the A38 roundabout.
Nest was created by award-winning metal sculptor, Ian Gill, as part of our Slimbridge 75 project, supported by National Lottery Heritage Funding. The project's mission was to celebrate the life of WWT's founder, Sir Peter Scott, and tell the story of Slimbridge Wetland Centre and its role in modern conservation. The A38 sculpture, funded by Moto in the Community, was the final instalment and marked the completion of the Slimbridge 75 project.
In 2018 children at Slimbridge Primary School were asked to come up with a concept for the roundabout, by creating designs that reflected what WWT meant to them. The two and three dimensional drawings - inspired by wetlands, were then entered into a competition. A pupil, aged 11, won with her fun design which incorporated a blend of natural wetland habitats, insects and bird species which can be spotted at Slimbridge.
Ian Gill brought the winning student's vision to life. His sculptures include a combination of traditional blacksmithing and modern industrial techniques, working with heavy gauge materials that can be hot forged.
Since the CPRE awards programme began in 2007, a total of ninety local initiatives have been presented with the CPRE Gloucestershire Award, from farm shops to community projects, to wildlife reintroduction and affordable housing. This year the awards had a new sponsor, Loxley Solicitors and CPRE are most grateful for their support.
This year's recipients were celebrated at an Award Ceremony at the Gambier Parry Hall in Highnam. Representatives of the projects were presented with plaques and certificates by CPRE's new President, Madeleine Bunting.
The awards recognise and celebrate projects in towns, villages, and the countryside that make an outstanding contribution to the county.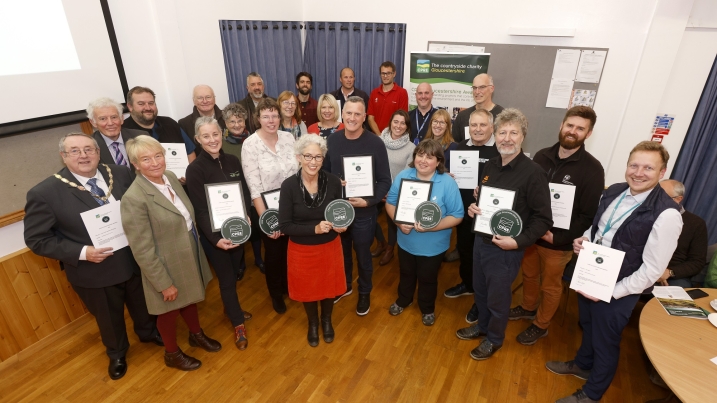 ---