Despite the centre being closed, find out which Bewick's swans have been spotted on site this winter at Slimbridge.
The beginning of December brought about the first 'swanfall' after a steady start to Bewick's season.
Overnight on 30th November, 26 majestic Bewick's swans arrived, after completing the final leg of their autumn migration. Encouraged by the onset of winter conditions t their breeding grounds in Arctic Russia, the Bewick's swans began their journey back in September and have since been enjoying the comforts and plentiful feeding opportunities at wetlands across Estonia, Latvia and Lithuania. Hence the initial slow start to the Bewick's swan season at Slimbridge.
The appearance of so many swans in one go is called a 'swanfall', and marks the final stage of their epic 2,500km journey from Arctic Russia to the comparatively warmer weather of the UK. This year's first 'swanfall' came almost a month after first arrivals Primero and Piquet touched down at Slimbridge on 5th November.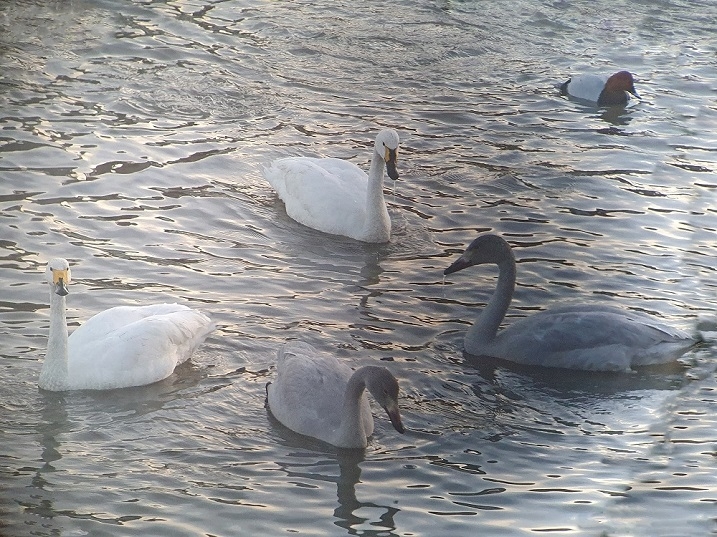 The 'swanfall' saw the exciting arrival of Slimbridge regular – Maisie, named after our Reserve Warden, Martin McGill's, daughter. Maisie arrived this year with her partner Mayfeld and their first two cygnets. At just three months old, these cygnets have completed their first 2,500km migration. Maisie first winteredat Slimbridge in 2014-15 where she was fitted with a GPS collar, therefore for a few years WWT were able to track her movements. Unfortunately during migration Maisie somehow lost the tracking collar. Maisie has been with Mayfeld since the winter of 2016-17 but this is the first time they have brought cygnets to Slimbridge (pictured above).
Other swans to arrive this winter include Babaco, who was spotted at Slimbridge on 26th November without partner Babato - they have been together since the winter 2016-17. Babato finally appeared one month later on 26th December... bet he had some explaining to do!

We are also pleased to welcoe back the infamous "divorcee" Sarindi this year, along with 2 cygnets (pictured below). A decade ago Sarindi appeared to separate from his partner at the time, Saruni. Having been an item for several years, you can imagine our surprise when both birds arrived at Slimbridge....with different mates! The two new pairs (Sarindi with Sarind and Saruni with Sarune) have co-existed at Slimbridge every winter since. This unusual event was only the second time in 50 years of WWT's research involving the study of 4,000 swan pairs, that a 'divorce' had been recorded at Slimbridge!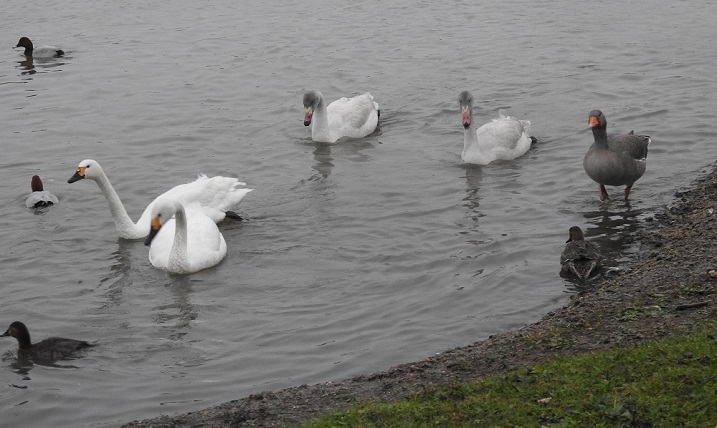 Tracked swan Arkadi (pictured below) has also been spotted on site. Arkadi has brought back 5 cygnets in his time with previous mate Crete, however Crete did not return in the winter 2016-2017. Arkadi has returned this year with a new mate, Kritsa.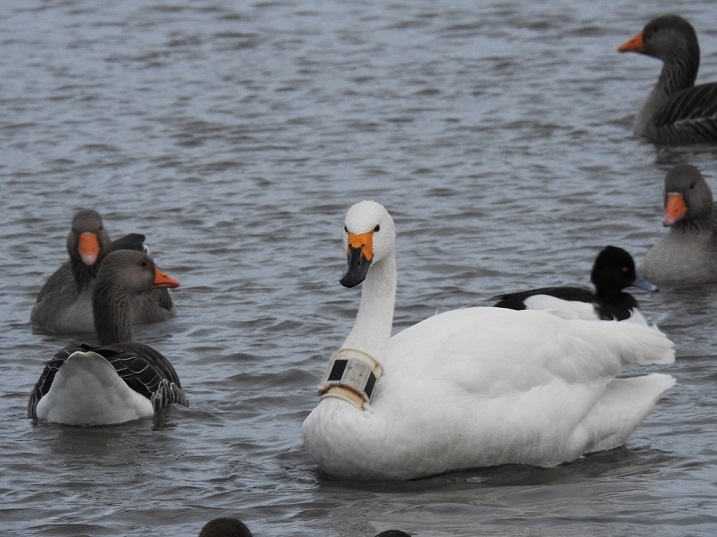 On 3rd January 71 Bewick's remained on site.