Don't you just love this time of year! Arundel is beautiful throughout the seasons but the start of Spring fills us all with excitement and anticipation as signs of new life start to pop up all around the grounds.
Look out for our new column in the Chichester Observer written by our Grounds Manager, Paul. His weekly piece follows his walks around the reserve, highlighting seasonal changes and offering an insight into the secret side of Arundel. I thought I'd poach an excerpt from this week's column to give you a taster…
"Continuing up the path I check the black thorn hedge for eggs of the brown hairstreak butterfly. These eggs overwinter on a branch fork between new growth and the past years growth. The bright white eggs are small and have intricate elaborate structures. Get a magnifying glass for an up close amazing view. The black thorn is budding now and will soon be white with flowers. The leaves appear in April, ready to feed the brown hairstreak caterpillars. Brimstone butterflies were spotted onsite last week. They hibernate as adults, the males appearing earlier than the females. The story goes that the word butterfly is derived from the 'buttery' bright yellow appearance of the males. The females are more greenish yellow in hue and lay their eggs singly on the leaves of buckthorn shrubs."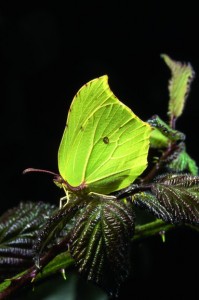 Brimstone Butterfly by Paul Stevens
"I hear a peregrine cry a mating call from the hanger above the reserve and watch him displaying for his mate before dropping down into the hanger. With the binoculars I find him, spotting his slate grey back parked in a dead tree. I stay and scan for the female I know must be nearby. My patience is rewarded as I find her in another tree 20 yards down, ripping at prey, white feathers drifting downwards. She is larger than the male, as is the case with most female raptors, and can bring down larger prey like pheasants and mallards. He will hunt small ducks and both will easily grab pigeons. The male soon flies over to join her and watches her eat."
Spring is most certainly in the air in the collection areas too. Three pairs of Nene are sat on eggs in the World Wetlands and North America exhibits, fingers crossed they will have more luck than last year when heavy rain and spring tides caused water levels to rise, flooding out nests leaving them abandoned. Last year, one female Nene was bred successfully and she is now all grown up. She won't be looking to pair up until she's about 3 or 4 years old but she has made friends with a couple of the younger males now that she's no longer with her parents.
A couple of weeks ago the Scaly-sided Mergansers provided a talking point during the daily diving bird feed. They were rather publicly showing their love for eachother throughout the whole feed which I'm told had a fairly young audience that day… I think some parents may have had to have the 'birds and the bees' talk following their visits!
The beautiful Coscoroba Swans are also sitting on eggs, as of yesterday she had two. Last week, they were delighted when Sam, our new Grounds Supervisor, provided them with a pile of chopped reeds. They immediately got stuck in, throwing the reeds around to construct their nest on the same island where they nest every year. Sam was very amused to find that when they turned their backs a Puna Teal snuck in and made herself cosy in the huge nest, I think she was evicted fairly sharpish!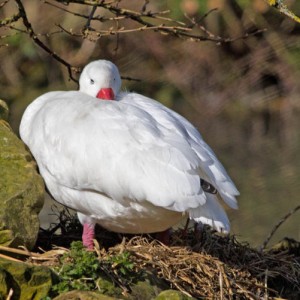 Coscoroba Swan by Tony Hughes
On leaving work late last Thursday I encountered a large toad sat in the middle of the car park. She sat there frozen in my headlights and allowed me to pick her up and move her to safety. When I came into work the next day I mentioned it to Paul and he smiled, pleased to hear that the toads were making their annual trip back to the reserve to spawn. Apparently they have a few favoured places including the entrance pond and Wetlands Discovery. I didn't realise that toads can live for around seven years and it's amazing to think that some may have returned to Arundel year after year. Paul sent me this lovely photo taken a couple of years ago when one female found her way into the box where the milkman leaves our deliveries!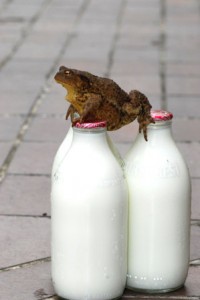 Female Toad by Paul Stevens
Right, I think I'll go and grab some lunch, I might take a stroll out to the Sand martin hide where two pairs of Lapwing are becoming a permanent feature so fingers crossed they'll breed again too this year.
Liv