Signs of dramatic changes for some wetland birds are reported today as some species reach their highest and lowest recorded population levels in the UK in winter.
Millions of ducks, geese, swans and wading birds escaping the Arctic winter in northern Europe, Siberia, Greenland and Canada, head for our shores, making the UK one of the most important European countries for wintering waterbirds.
The latest population figures on wetland birds – and a host of other species are – contained in the State of the UK's Birds 2011 report – published by a coalition of conservation organisations. The report provides a 'one-stop-shop' for the results of bird surveys and monitoring schemes and projects from across the UK from as recently as 2010.
Overall, numbers of wintering waterbirds have been in shallow decline since the late 1990s, but the underlying story is more complex.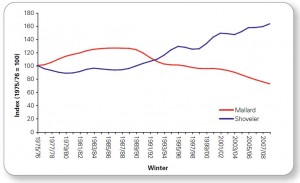 One of the greatest losses recorded in the report has been the mallard – Britain's most familiar duck – which has hit a new low with the lowest recorded numbers wintering at their most important UK strongholds. The State of the UK's Birds 2011 report shows that winter mallard numbers have declined by 38 per cent since 1982 and by 22 per cent since 1998. However, the shoveler, a close relative of the mallard, has increased by 27 per cent since 1998.
The whooper swan, which breeds in Iceland, has reached its highest levels (increasing by 122 per cent in the last 10 years) while the Bewick's swan, which breeds in Siberia, has declined by 44 per cent over the same period.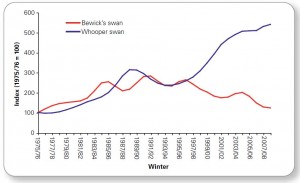 The reasons for the changes are complex and not yet fully understood. Results from waterbird monitoring schemes in other parts of Europe have shown that some changes is likely to be explained by some birds not migrating as far because of milder conditions elsewhere: a phenomenon known as 'short-stopping'.  But for other species, such as the Bewick's swan, international cooperation has proven that numbers are declining across northern Europe.
Other species which have declined since 1998 are: pochard (-46 per cent); dunlin (-39 per cent); bar-tailed godwit (-29 per cent); and ringed plover (-26 per cent).
In contrast, the report also shows that some wintering wetland birds have increased in the UK since 1998, including: avocet (+95 per cent); black-tailed godwit (+53 per cent); and pink-footed goose (+27 per cent). The avocet and pink-footed goose have both reached their highest population levels since records began.
Richard Hearn WWT's Head of Species Monitoring said: "We are seeing increasingly rapid changes in wintering waterbird numbers in the UK. Some species such as goldeneye, are most likely moving elsewhere, but others such as long-tailed duck and velvet scoter, are thought to be declining everywhere and require urgent conservation action.
"An icon of the UK migration season, Bewick's swans also need continued focus to ensure conservation actions are implemented. And with so many of these migratory birds reliant on our wetlands, the loss of 45 per cent of wetland habitat in the UK in the last 75 years is a major concern."
Read the full press release here.
The State of the UK's Birds 2011 report is produced by a coalition of three NGOs – RSPB, British Trust for Ornithology (BTO), and the Wildfowl & Wetlands Trust – and the UK Government's statutory nature conservation agencies – the Countryside Council for Wales (CCW), Natural England (NE), Northern Ireland Environment Agency (NIEA), Scottish Natural Heritage (SNH), and the Joint Nature Conservation Committee. (JNCC).