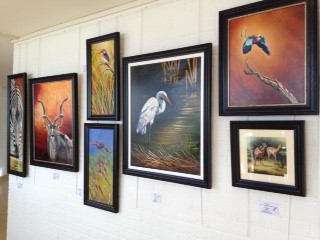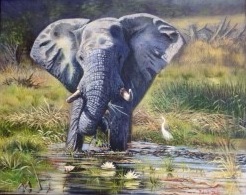 An exhibit of wildlife paintings by Worthing artist Patrick are on display at Arundel Wetland Centre until May 31. A portion of all sales of the artworks will go to the Wildfowl & Wetlands Trust.
Most of these works were inspired by safaris Patrick took to the Okavango Delta in Botswana in 2014 & 2015. In 2015 Patrick was on safari in a group with Arundel Wetland Centre's manager David Fairlamb & WWT Arundel's own Artist in Residence Desiree Hart.  Patrick Duff said: "I was privileged to see at close range and photograph a wide variety of big game and hundreds of bird varieties."
The founder of the Wildfowl & Wetlands Trust Sir Peter Scott was a wildlife painter as well as a conservation visionary. When WWT Arundel Wetland Centre first opened in November 1976, a section of the visitor centre floor space was devoted to art as the "Eye of the Wind Gallery". Now in our 40th year in Arundel the Wildfowl & Wetlands Trust are renewing our links between art and wildlife by rededicating space in the visitor centre to displaying work by regional artists. The display space was relaunched on our 40th anniversary in November 2016 with an exhibit of works by Sir Peter Scott.
Arundel Wetland Centre on Mill Road, Arundel BN18 9PB is open from 9.30am-17.30pm seven days a week. Access to view artwork is included in the admission price to the wetland centre and reserve.